Chadema merchandise a hot item in Mwanza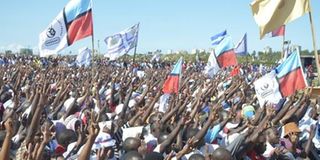 Summary
Vendors of items such as T-shirts, caps, scuffs, and flags were in brisk business following several years of non-activity
Mwanza. Opposition party Chadema supporters are in high spirits following lifting of the ban on political rallies and today they have painted the city in party colours with its merchandise becoming a hot property.
Vendors of items such as T-shirts, caps, scuffs, and flags were in brisk business following several years of non-activity.
Yoram Sethy, a vendor admits that for about seven years selling of outfits had been almost taboo following the banning of political rallies, saying the kick off now presents a new dawn for his business.
"I am still selling stock that was printed in 2015. I came all the way from Dar es Salaam to this meeting due to the increase in demand and the business is going well so far. It is my hope that President Samia will continue to keep her promise on this,"
Paulina Augustine, another vendor selling Chadema materials says that she believes the rallies will help motivate members to buy and wear their party merchandise without fear.
"In previous years, people were afraid to be seen wearing Chadema uniform, but now that is all changing. People are coming to buy khanga, t-shirts, shirts and hats to support their party in all ways."
She said the massive flow of people who have come from different parts of the country to witness this first political rally in almost 7 years is a blessing to her business.