Chadema paint Mwanza Blue, Red and White on first rally since ban lifted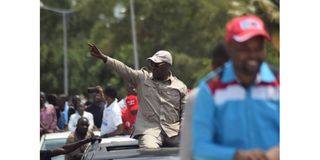 Mwanza. Tanzania's main opposition party Chadema on Saturday January 21, held its first political rally since a ban imposed in 2016 was lifted, raising hopes of increased political freedom.
"It was not easy after those seven years of banning political meetings," the director for communications and foreign affairs for the Chadema party, Jon Mrema, told cheering supporters.
Thousands of Chadema supporters gathered at the Furahisha grounds in Mwanza chanting party slogans , draped in the party's blue, red and white colours.
Incidentally it was in Mwanza where their party chairman Freeman Mbowe was arrested in 2021 and ended up behind bars for 7 months facing a myriad of charges including terrorism.
The charges were later dropped after the DPP declared he had no intent to pursue the case any further.
"We have been silent for almost seven years but finally, our right is restored and we are ready to move ahead," Mwanza resident Mary Dismas said.
President Samia Suluhu Hassan early in January lifted the ban against political rallies which was introduced by her predecessor John Pombe Magufuli,.
The government's change of heart comes as President Samia Suluhu Hassan, who has been in power for 22 months, seeks to break with some of Magufuli's policies.
The move was cautiously welcomed as a gain for democracy by rights groups and the country's opposition parties.
Magufuli had banned political rallies early in his tenure, saying it was time for work, not politics.
But critics said the ban applied only to opposition groups, with the ruling party free to assemble, and rival gatherings were violently broken up by police and their officials jailed.