Prime
Costech, EU deal new hope for Tanzania digital creators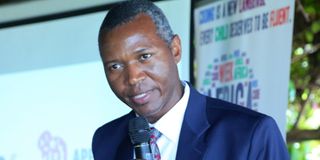 What you need to know:
The new deal will create opportunities for growth and innovation in the digital sector
Dar es Salaam. The Tanzania Commission for Science and Technology (Costech) will partner with the European Union (EU) in creating a curriculum for innovation and creativity.
The move would facilitate the link between digital creators in Tanzania the foreign investors.
The collaboration is through the AfriConEU, a project that supports the strengthening of existing Digital Innovation Hubs in Africa.
It also facilitate the collaboration between the hubs and the EU to strengthen a common EU- Africa innovation and Startup ecosystem.
According to Costech's Director General Dr Amos Nungu, the initiative seeks to enhance collaboration between Tanzanian digital creators and foreign investors, thus creating opportunities for growth and innovation in the digital sector.
Dr Nungu was speaking yesterday during a design thinking Bootcamp organised by the AfriConEU.
"Costech recognizes the significance of equipping Tanzanian digital creators with the necessary skills and knowledge to thrive in the rapidly evolving digital landscape, especially on packaging and presentation which has been a challenge for most creators"
"Partnership with the EU aims to address this need by developing a comprehensive curriculum tailored to the unique needs and aspirations of digital entrepreneurs in Tanzania," he said.
EU-Tanzania programme manager, Mr Jose-Luis Gonzalez said local talents will be nurtured into crucial necessary skills and knowledge to navigate the challenges and opportunities of the digital landscape.
"These include how to pitch their ideas to investors, presentation skills, and soft skills," he said.
Digital skills trainer and founder of Kibo Hub, Mr Adamu Mwinyikayoka said curriculum for digital creativity will serve as a catalyst, empowering Tanzanian digital creators to realise their full potential and contribute to the nation's economic development in the digital era.
"The biggest challenge has been the know-how, we expect that from this partnership we will get equipped with necessary skills and expand it by training other digital creators who are not here," he said.
NMB Bank Plc's Innovation Lab analyst, Ms Rebecca Abdallah said the bank is one of the key investors in the innovation and tech sector and has reinforced their commitment to nurturing the digital ecosystem in the country.