Denmark reverses decision to close embassy in Tanzania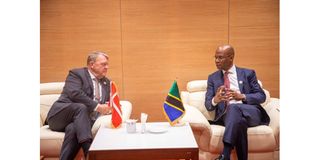 Dar es Salaam. Denmark will not close its embassy in Tanzania as it had earlier in 2021 announced, the government has confirmed.
The confirmation, announced by Foreign Affairs Minister January Makamba on November 16, 2023, comes two years after it was made public that the Danish government had decided to phase out bilateral development cooperation in Tanzania and close the Danish Embassy in Dar es Salaam in 2024.
However, sharing on his X account, Makamba said Denmark has decided to stay in Tanzania following a "very fruitful meeting in Algiers last month."
He continued, "With Denmark's renewed commitment to global partnerships, earlier today my colleague, Denmark's Minister of Foreign Affairs, informed me that the Danish government is reversing its decision to close its embassy in Tanzania. So, Denmark will continue its storied 60-year presence in Tanzania. I welcome this news with gratitude and happiness, aware of what it means for relations between our two countries."
In 2021, Danish government announced its intention to close its mission in Dar es Salaam in 2024, citing the adjustment of its international presence as one of the reasons.
This move also included the closure of its embassy in Argentina, its Consulate General in Chongqing, China, and its Trade Mission in Barcelona, Spain.