How crowdfunding can help boost startups in Tanzania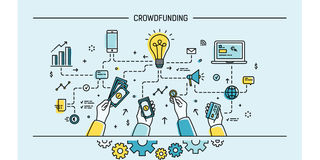 What you need to know:
Crowdfunding is the financial model that supports new ventures by using the Internet to solicit and aggregate small monetary contributions from many funders
Dar es Salaam. One of the challenges facing those with startups is to fail to get loans from banks and financial institutions due to lack of collateral.
As a result of this, many innovations that could have provided solutions in various sectors end up undeveloped.
To overcome the challenge, Mzumbe University has come up with a new research project aimed at  finding new methods to help the youth in Tanzania access funds for business startups via the Internet known as crowdfunding.
According to young people, most of them are 'walking' with ideas because they do not have the money to develop them and they say that if the platform starts being introduced, it would be of great use.
Also Read: Why most startups in Tanzania fail - and the way forward
Crowdfunding is the financial model that supports new ventures by using the Internet to solicit and aggregate small monetary contributions from many funders.
Fund seekers might target a large audience to which each participant contributes only a small amount of money to develop the project.
According to the Tanzania Startup Association (TSA), 82 percent of them in Tanzania are underfunded.
Research
A project coordinator, Dr Nsubili Mwalukasa, said the research started in 2019 with the aim of creating the awareness of Crowdfunding Youth Entrepreneurs in Tanzania (C4YET) if they knew about the way to get a loan.
Explaining how the youth can get funds, Dr Mwalukasa said there are people who are in a crowdfunding network willing to help startups, therefore, if anyone has a good innovative idea, they should send it to the stakeholders who may donate money to develop it.
The kind of financing is different from banks because the collateral is the financial intermediary who brought the idea to the crowdfunding so the fund would be given under a small interest rate and conditions.
"So the financial intermediary will receive the funds on behalf of applicants and make all the surveys on the project as well as make a follow-up, therefore, this would help many young people to develop their creativities by using that finance method," she stressed.
During the research findings, most of the entrepreneurs, who accounted for 60.7 percent, have already participated in fundraising activities. That implies that they can easily learn about fundraising methods.
About 52.7 percent of entrepreneurs are not aware of crowdfunding and 47.2 percent are aware of the practice. Of those who are aware, most 42.0 percent heard of crowdfunding from family and friends, 32 percent through social media, 16.0 percent through financial institutions, and 8.0 percent through training about alternative sources of funding, such as crowdfunding.
"Only a few of those, who have heard about crowdfunding, have some ideas on what it is, what is involved, and how it works. 80.9 percent of respondents have never been involved in crowdfunding, only 19.1 percent who have previously participated," she said.
The next project is to train the youth on how best to use the finance method before the introduction of the platform in the country.
On the other hand, senior project coordinator Dr Daudi Ndaki said the project started in February 2019 and has planned to implement 17 activities from which 12 are expected to be accomplished by January 2024.
Dr Ndaki added that for the period up to September 2021, five activities have been implemented, six are in various implementation stages and five have not taken off.
The project consortium includes Mzumbe University, Small Industries Development Organization in Tanzania and Copenhagen Business School from Denmark.
"Several challenges still hinder the performance of youth entrepreneurship, with lack of finance cited as the leading obstacle. The overall objective of C4YET is to promote the sustainability of youth–led businesses and start- ups through increased access to crowdfunding," he said.
"If we get crowd funding kick-started in Tanzania, we can help the youth create self-employment. More than fifty per cent of the total population in Tanzania are young people who can work, yet most struggle to get employment," he stressed.
The crowd funding project for youth entrepreneurship in Tanzania (C4YET) is a timely study that seeks to remove barriers for youth accessing funds from the Internet.
Youths comments
A founder of Taotic Innovation Company, Mr Kiko Kiwanga, said lack of funding is a very critical challenge to startups, adding that only few are supported by their families to implement their projects. He said those with no ideas end up on the way without being developed.
"For SMEs, they can manage to develop their ideas because most of them do part-time jobs or are employed somewhere else, but for startups you find most of the time they develop ideas while they don't have other means of revenue," he said.
Innovator James Marandu said the traditional method of acquiring funds is hindering many youth from developing their ideas due to failing criteria as business must have begun, guarantors among others.
"We believe if innovation is introduced, a number of youths will come up with constructive ideas based on solutions in various sectors: health, agriculture, communication, finance among others," he insisted.