Prime
How Tanzania can boost local content development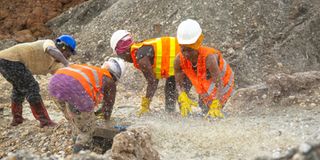 What you need to know:
A new study has recommended a more effective push for local content understanding and implementation starting at the grassroots all the way up the supply value chain in order to benefit  Tanzanians working in the mining industry
Dar es Salaam. A new study has recommended removal of employment barriers facing local communities through targeted training programs in order to kick start effective local content development in the country.
The study also recommends establishment of capacity building initiatives for local suppliers to access supply value chains in the mining sectors and that the Mining Commission should enforce local content laws for compliance.
Local content understanding should also be clarified at the grassroot levels, instead of focusing on the national geographical boundaries only.
These are recommendations from a recent study dubbed: 'Realizing local content development in Tanzania: Suggestions arising out of 'Golden' Voices from Geita and Mara Regions.'
The study aimed to unearth best practices of local content implementation which can lead to increased citizens' participation and their respective benefit from the mining value chains at the grassroots level.
The findings were published in June 2023 by HakiRasilimali in partnership with International Peace Information Service (IPS).
Authored by Francis Mkasiwa, Lucy Shao and Paul Mikongoti, study data was collected between February 15 and March 4 2023.
A total of 60 respondents were consulted, 30 from North Mara and 30 from Geita.
The recommendations were issued after it was established that jobs in large-scale mines remained inaccessible for the majority of locals.
"Furthermore, results indicate that local communities are, by and large, unable to access profitable supply value chains in mines," reads part of the document.
According to the document, the findings indicate a general lack of understanding among community members as far as value addition is concerned.
"The majority of respondents do not believe that the government is doing enough to ensure that mining companies comply with local content requirements," reads another part of the document.
"This is an important finding, particularly for the Mining Commission which is responsible for overseeing local content development in Tanzania," adds another part of the study report.
According to the findings, there is still a long way to go before local content development is fully realized in Tanzania, particularly for local communities living in the vicinity of mining operations.
Cementing the recommendations, the study says there must be deliberate attempts from both the government and mining companies to empower local communities and suppliers to enable them to take advantage of the local content policy.
"Leaving local content to market forces has never allowed it to be accessible to the poor. It is in this context that local content must be deliberately used as a vehicle to improve the livelihoods of Tanzanians," reads part of the report.
"This should be done by enabling them to access jobs, training, markets and innovation opportunities related to the mining sector," adds another part of the document.
According to study design and sampling, the majority of local respondents have not been able to access jobs in the mines mainly because some lacked interest in securing such jobs.
Others lack qualifications and presence of limited job opportunities to point blank discrimination against local communities.
"Furthermore, results indicate that local communities are, by and large, unable to access supply value chains in mines and that a few that do, often end up at supplying low-value goods such as vegetables and fruits," says the document.
"Moreover, the majority of respondents that supplied goods to the mines, did so within consortium parameters," adds another part.
It points out factors that keep them away from the supply value chain such as lack of transparency in the tendering processes, absence of competitiveness in the tendering, complex negotiations, lack of trust, shortage of capital and presence of substandard products.
The document says that interestingly, delay in executing payments was cited by almost half of the suppliers as a reason for underperforming in the sampled region.
"Coupled with claims that mining companies never bother to support communities in providing them with requisite training, makes a worrisome discovery as far as local content development is concerned in the two regions," according to the document.
"It suffices to say that findings from this study show lack of understanding as far as value addition is concerned. It was worrying that some of the respondents indicated to have never heard of value addition," reads another part.
Furthermore, the study says this suggests that the regions lag behind especially in terms of value addition dimension of local content.
Reached for comment, Barrick Gold deputy public relations manager Helmence Christopher said the youth in project areas are ready to seize available opportunities, noting however that the challenge remains that the mines were incapable of assimilating all of them.
According to him, they are forced to look for alternative activities including agri-business in order to economically liberate the youth in large numbers, a move that will also curb conflicts with surrounding communities.
"We have started an agri-business project in North Mara involving 100 citizens in the first phase. They are now engaged in vegetable and fruits cultivation, therefore enabling them to get earnings," he said.
A trainee residing in the area surrounding the North Mara Mines, Mr Mroni Kirindo said receiving training from the mines has significantly transformed his life.
"I have changed my mind-set by starting to consider agriculture as a game changer instead of gold. This comes after surviving being gunned by the mine security men who fired at the youth that invaded the mine in 2012 killing some of them," he said.
Tabling the 2023/24 budget in Parliament, Minerals Minister Dotto Biteko said the Mineral Commission will continue setting aside and distributing blocks for small scale miners.
He said the commission was also responsible for supervision of Tanzanians' involvement in the local content in accordance with the law.
"The government will continue to supervise and ensure investment companies in the mineral sector utilise local products and services provided by Tanzanians. It will also supervise to ensure license holders conform with the requirement of Corporate Social Responsibility (CSR) in the country," he said.
Dr Biteko, who doubles as Bukombe Constituency Member of Parliament, said about 14,742 jobs have been created by large scale mines by 2021.
He said 14,308 jobs which is equal to 97 percent were offered to Tanzanians, while the remaining 434 equivalent to three percent were allocated to foreigners.