How this girl was lured by Isis terrorists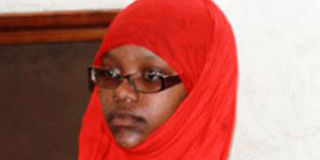 Summary
Teens from Tanzania and Kenya promised prosperous married lives by Shabaab and Isis fighters

As the authorities in Tanzania were still gathering details on the case before issuing any public statement, fresh revelations from Kenya show that the 19-year-old girl was recruited via the internet in September, last year

Fresh details in the the arrest of three young women, who were stopped before entering Somalia, show that they had planned to fly from Mogadishu to Turkey and eventually to Syria

Dar es Salaam/Mombasa. A 19-year-old Tanzanian woman arrested in Kenya on suspicion of terrorism was apparently headed to Syria to join ISIS. She was recruited on the internet by a female agent of the terrorist group.
Fresh details in the unfolding tale of the arrest of three young women, who were stopped before entering Somalia, show that they had planned to fly from Mogadishu to Turkey and eventually to Syria. 
Investigators have also revealed that Ummul Khayr Sadir from Zanzibar studies medicine at International University of Africa in Khartoum, where her parents are lecturers. She was seized alongside her Kenyan companions, Khadija Abubakar Abdulkadir and Maryam Said Aboud--all aged 19 and students at local universities. Ms Sadir reportedly joined Al Shabaab last September before she returned to recruit her Kenyan accomplices.   
Authorities in Tanzania were still gathering details on the case and would not make any public statements. "She was a third-year student of medicine at the International University of Africa in Khartoum," said Mr Sadir Abdalla Said, who told investigators he was her father.
Mr Said told Kenyan detectives that he flew to see his daughter from Oman, where he claims to work. But other evidence suggests that the parents of the Zanzibari suspect are both university lecturers in Sudan. Mr Said later claimed he last met Sadir in Zanzibar in August last year and she visited him in Oman in 2011.
The young women are accused of trying to cross into Somalia to marry Al-Shabaab militants. They were reportedly arrested in El Wak town along the Kenya–Somali border. Police claim the three hoped to reach Syria and join Islamic State, a terror group so brutal that even Al-Qaeda's leader, Ayman al-Zawahiri, has disowned it. The suspects were remanded for 20 days to allow police complete investigations.
According to The Standard, relatives watched in disbelief on Monday as the State unveiled the suspects in Mombasa. They are accused of trying to cross into Somalia to join Al-Shabaab and become "jihadi brides".
Abdulkadir, Aboud and Sadir joined Al-Shabaab in September last year after linking up with the group on the Internet. They were lured to join the militant group in Somalia by a Syrian female contact.
Quoting investigators, The Standard reported that the three women were promised marriage to Islamic fighters in Somalia, eventually ending up as widows of holy fighters. They hoped to reach Syria through Turkey after flying from Mogadishu.
A State report suggests that the Tanzanian, who wore a red shawl when the three appeared in court on Monday, was the mastermind of the plan. Their cellphones and two laptop computers were seized by police after they alighted from a bus in El Wak town, near the Kenya-Somalia border on Friday last week.
The report also claims the Tanzanian confessed during interrogation by Kenyan detectives that she was recruited by an agent named Abdulla Ibl Zubeir through a telephone contact in Somalia. On Monday, she told relatives that someone was supposed to meet them. They were unable to connect with Abdulla, whom Kenyan investigators suspect was in Mandera, and the alleged Syrian contact.
Intelligence sources indicate Ms Sadir was born in 1990 and was a top student at Burhani Secondary School in Malindi, where she scored a grade B in 2008 before proceeding to Kenyatta University. She graduated in 2012 with a bachelor's degree in Commerce.
Ms Abdulkadir was pursuing a bachelor's degree in pharmacy at the Thika campus of Mount Kenya University after scoring a grade B at Tawir Secondary School in Malindi in 2012, according to a report by police and relatives. But Mount Kenya University has since denied that she is a student at the university. The university's head of corporate communication, identified only as Dr Bureti, said she was not a student at the institution.
Following the State's request, Senior Resident Magistrate Irene Ruguru allowed police to detain the three girls for 20 days to allow for investigations expected to extend to Zanzibar, Sudan and Somalia. Relatives divulged very little about their social lives while the three displayed little emotion in the dock.
The Standard established that one of the suspects made frantic efforts to have her mother erase certain numbers from her cellphone while another wanted her room cleared of some documents. One suspect maintained that police arrested them in a group of six women, a claim The Standard could not establish amid reports that some of the women travelling with them could have been undercover agents.
It was difficult to ascertain whether the women had displayed any sense of grievance at school or work although Fatma Said, the sister of Said, told The Standard she (Maryam) "had complained about low pay at the hospital where she worked and expressed desire to look for a better job". Khayr studies medicine at International University of Africa in Khartoum, according to State documents and Sadir Abdalla Said, who turned up at the Mombasa law courts claiming to be her father.
"She was a third-year student of medicine at the International University of Africa in Khartoum," Sadir Abdalla Said, who alleged he had flown from Oman where he claims to work but a detective indicated the parents of the Zanzibari suspect "are both university lecturers in Sudan".