Insurers urged to speed up claims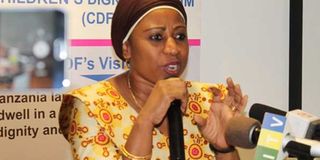 Dar es Salaam. The government is urging the insurance industry to process health claims within 30 days to ensure timely delivery of treatment.
Claims processing currently takes up to 60 days.
But Health, Community Development, Gender, Elderly and Children minister Ummy Mwalimu wants that period reduced by half.
"It is known that payments can take up to 60 days, but I am sure there is a way the NHIF (National Health Insurance Fund) can speed this up and pay in just 30 days, as long as the claims arrive on time and are all verified," said the Minister.
She was speaking yesterday during the launch of a building for a new private clinic at the Comprehensive Community-based Rehabilitation in Tanzania (CCBRT).
Earlier, CCBRT chief executive officer Brenda Msangi had raised concerns over inconveniences caused at the facility by delays in the processing of claims.
Ms Msangi said they were finding it difficult to deliver services to clients because insurance claims were taking too long to process.
She said the CCBRT, which works to prevent disability and provide affordable medical and rehabilitative services, was forced to borrow due to late payment of claims.
Innocent Mauki, NHIF regional manager for Kinondoni, cited the need for verification as the reason for delays.
"I heard what the minister has just said at the event. It is our job to take up the order and work on it," he told The Citizen.
Commenting on the newly opened clinic, Ms Ummy said for many years, CCBRT with the support of its partners and the government, had been providing free and subsidised services to vulnerable Tanzanians.
However, she noted, in recent years, the world economy has changed, leading to a decline of aid from abroad.
CCBRT plans to invest the revenue collected from the private services into provision of free and subsidised services to vulnerable Tanzanians who need services in Ophthalmology, Orthopedics and Physical Rehabilitation, Reconstruction, Maternal and Newborn and Child Health.
With partners such as Bank of Africa, CBM Canada, Rotary Dar es Salaam Marathon and TFC, CCBRT now has private clinic with the capacity to tripple the number of patients.