Prime
Investing in early childhood development is very crucial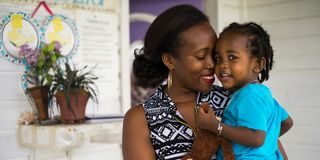 What you need to know:
In order to have more responsible citizens, experts advise parents to focus on imparting positive traits to their children from an early age
Dar es Salaam. The human brain grows between 80 percent and 90 percent at the age of zero to eight years, says an expert in early childhood development from the Ministry of Community Development, Gender, Women, and Special Groups.
This fact makes it important for parents to highly invest in their children's upbringing and development in order to build a nation with sound and outstanding citizens.
These issues were shared by the child development director at the ministry, Mr. Sebastian Kitiku, during a meeting of stakeholders aimed at discussing issues of Early Childhood Development (ECD) through sharing success stories and challenges.
It was during the 60th anniversary of the Christian Relief Services (CRS) that it began enhancing and promoting issues of ECD in the country for the interest of Tanzanians and the general public.
CRS has been working with the most vulnerable people in marginalized and underserved communities in Tanzania since 1962.
Apart from ECD, CRS executes other programs in the areas of health, nutrition, and water, sanitation, and hygiene (WASH).
Speaking to The Citizen, Mr. Kitiku says parenting science states that the upbringing of a child is more crucial between zero and eight years than any other age in human development.
"The human brain grows at a higher percentage between zero and eight years. Delayed investment at this age means delaying the development of human beings and their efficiency after maturity," he says.
"One percent investment in a child at this age provides parents with a 17 percent return in adulthood. This is why people should invest in childhood development, especially below the age of eight," he adds.
Mr. Kitiku says investment should, however, focus on five key issues, including good health, which should be an area of higher focus during the time a baby is in the mother's womb, from shortly after birth to the age of below eight years.
It involves the provision of all necessary vaccines and subjecting the baby to treatment whenever he or she falls sick, according to him.
A child should be provided with nutritious food, says the expert, noting that learning and activeness should be taught for the proper growth of the child's brain.
"A child should also be given excellent security and safety for proper brain growth," he says.
Substantiating, Mr. Kitiku says security and safety should focus on heightening a child's protection against violence, cautioning that once they are subjected to viciousness, the growth of a child's brain gets adversely hampered.
Furthermore, the expert says the 2020 data from the Police Force shows that nearly 5,700 children were raped during that year.
"This is the leading challenge facing children in the country. It is followed by teen pregnancies, with a report showing that 1,680 primary and secondary school children were impregnated in the said year," he says.
According to Mr. Kitiku, the police report shows that nearly 1,120 children were also sodomized during the year of review, indicating that they adversely affect the growth of a child's brain.
"That is why the government has been calling for an intensified war on violence against children. However, we are thankful that awareness is increasing among parents and members of society," he says.
"This could be attributed to increased awareness among Tanzanians, who would like to see perpetrators of such incidents held accountable. However, the trend provides the government with the opportunity to know the magnitude of the problem," he adds.
Furthermore, he said the government has been cooperating with CRS in the preparation of programs and guidelines for efficient implementation of ECD.
He says the ministry, through his department, was entrusted to oversee all children's welfare, noting that it was therefore obliged to ensure that all stakeholders actively participated.
The expert says the government's collaboration with CRS has created a fruitful avenue to closely work with religious leaders who have significantly contributed to the positive development of children in the country.
According to him, the use of religious leaders enables the government to benefit from worship houses' contributions to the establishment of child collection centers and the provision of training to parents and guardians on proper upbringing.
"Parents should also be trained on how to better raise a child based on the five areas aforementioned in order to enable a child to acquire a better foundation at the age between zero and eight years," he says.
"In doing so, we expect children to grow with physical fitness and sound mental health. This will enable us to make significant contributions to building a vibrant nation after the children have attained adulthood," he adds.
CRS country manager Kellie Hynes says her institution has been operating in Tanzania for the last 60 years.
"It is our commitment to Tanzanian families that we will continue working on different issues, including ECD. Citizens should ensure that they raise healthy families," she says.
"My belief is that healthy families have a high possibility of providing healthy children. The term healthy families is not restricted to physical health; rather, it extends to mental and economic health as well," she adds.
Furthermore, she says that by working with clergymen, CRS has managed to efficiently convey ECD messages to a larger population, where they have been translated for implementation.
CRS children's program manager Charles Fungo says one ECD achievement was the program's implementation in collaboration with religious leaders and other stakeholders at the grassroots level.
"Scarce resources poured in from donors who have been opting to fund programs for a short period of time have been the institution's major challenge. However, project implementation according to government priorities and focusing on sustainability have always been key to achievements," he says.
Citizens have been provided with nutrition education, says Mr. Fungo, adding that the provision of proper means of child feeding aims at enabling children to grow accordingly and addressing the challenge of stunting facing children in some of the regions despite having a higher trend of crop productivity.
Furthermore, he says research conducted in Mbeya Region on food and malnutrition shows that the region has a large number of stunted children despite being ranked among the five food basket regions.
He says the project implementation in Songwe, Iringa, and Njombe has shown a significant decline in the stunting trend.
According to him, the provision of education and knowledge on the proper preparation of nutritious food has been helpful to the majority of members of the community.
Mr. Fungo says that parents could sometimes be affected by stress, noting that CRS is then obliged to establish how the challenge could be relieved.
During the event, Reverend Esther Mwagachi from the Christian Council of Tanzania (CCT) said religious leaders have actively participated in the preparation of ECD guidelines.
"The guidelines enable us to reach different groups in the community. This is partly because clergymen are trusted and respected by targeted beneficiaries in the community," she tells journalists.
For his part, Dr. Saleh Abdallah, a representative from the Muslim Council of Tanzania (Bakwata), says the Holy Book of Islam, the Quran, directs Muslims to put emphasis on childhood development.
"Muslims therefore insist on studying hard in order to educate themselves and better understand the religion. This will ultimately enable them to know all directives, including issues of children's upbringing," he said.
Additional report by AnneCaroline Malika