Magufuli's legacy lives on two years after his demise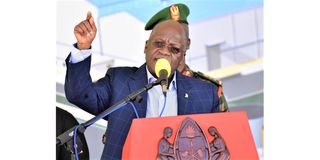 Summary
He was elected in 2015 on a promise to end corruption, reduce poverty, build infrastructure and deliver free primary school education, which he started delivering on his first day in the State House
Dar es Salaam. Two years after his passing, John Magufuli remains a leader who is revered by some and criticized by others, in equal measure.
Having been elected in 2015 on a promise to end corruption, reduce poverty, and provide free primary and lower secondary school education, the late Head of State started delivering from day one.
His no-nonsense governance style and impatience with wasteful government spending endeared him to many.
Soon enough, his popularity went sky high as the masses regarded him as the leader they had been waiting for to get them out of their socio-economic misery.
Many would remember that it was during his days in office that Tanzania started scoring firsts in the healthcare system.
This was after he discouraged the habit of sending patients to referrals outside the country.
Many would still remember that it was within his three years in office that, for the first time in the country's history, Tanzanian doctors conducted a kidney transplant surgery at the Muhimbili National Hospital (MNH). Other breakthroughs included the successful separation of conjoined twins and
All these feats went in tandem with an improvement in the health sector budget allocations, which for the first time crossed the Sh1 trillion mark during the 2017/18 fiscal year.
In the area of public infrastructure projects, Magufuli also attracted many admirers.
In addition to completing projects that were initiated by his predecessor, Jakaya Kikwete—including the construction of flyovers in Dar es Salaam and a number of road and bridge projects—the late Magufuli is also credited with initiating the construction of the Standard Gauge Railway (SGR) line, the 2,115 Megawatt Julius Nyerere Hydropower Project, and the revival of Air Tanzania Company Limited (ATCL), among others. His successor, President Samia Suluhu Hassan, has since taken the projects to new levels.
The firing and hiring of ministers and other top government officials was not uncommon during the presidency of the late Magufuli.
In fact, by the time he completed his first term in office, he only had about half of the ministers that he started with in his first Cabinet.
His style of firing the officials publicly earned him many admirers, especially from average Tanzanians, who regarded it as part of Mr Magufuli's anti-corruption and anti-incompetence war.
At around the same time, he initiated the infamous economic war that seemed to target foreign investors and some local moguls, who were regarded as stealing from Tanzanians.
The hiring and firing appeared to have improved public service delivery as it kept government officials on their toes, which benefited the common Mwananchi.
As his popularity kept soaring and as he attracted international headlines, he started emerging as an iron-fisted leader intolerant of opposing political views.
Soon enough, reports of human rights violations, kidnaps, and forced arrests of journalists, activists, and opposition politicians started becoming commonplace in Tanzania.
What became even more worrying was the lack of credible investigations from law enforcement organs on these incidents.
As the stakeholders were trying to make sense of what was transpiring in the country, Magufuli banned political rallies for non-elected officials and encouraged the decamping of opposition politicians to the ruling party, CCM.
The ACT Wazalendo leader Zitto Kabwe said the late Magufuli was a decisive leader but one who would repeatedly make wrong decisions.
He was a person with a grand vision for the country but with destructive development policies.
"He saw democracy as a nuisance, and as a result, he took our country back to the one party era. There were unspeakable atrocities committed by what is suspected to be rouge elements in law and security enforcement agencies," he said, adding that he was still loved by the downtrodden.
Chadema secretary general John Mnyika said the opposition remembers Dr Magufuli for suppressing democracy through the imposition of an illegal ban on political activities.
The conduct of the 2019 local government polls and the 2020 General Election, said Mr Mnyika, left a lot to be desired.
"These issues have overshadowed all the positives during his leadership," he said.
For her part, the Legal and Human Rights Centre (LHRC) executive director, Ms Anna Henga said the ex-president was a good executor of development projects and that he was an audacious person.
"The relocation to Dodoma was a tough nut to crack for all his predecessors, but it was finally realised during his leadership," she said.
Dr Magufuli would be remembered for a long time for his decision to revive the ATCL as well as for his efficient supervisory role in the construction and rehabilitation of roads, rails, bridges, and ports, among others.
"The only challenge with him is that he failed to link economic development and citizens' wellbeing," she said.