Moody's in Tanzania to evaluate credit worthiness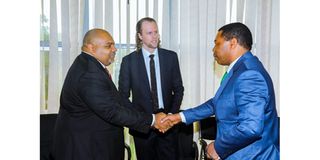 What you need to know:
New rating expected to increase the country's access to funding for development projects
Dar es Salaam. The government continues to work towards achieving a credit rating that will enable Tanzania to borrow money from international markets at reasonable rates.
Thus, senior Moody's Investors Service representatives are currently present in Tanzania as part of a number of procedures to be used in determining the country's rating.
Tanzania's infrastructuree needs are massive and the government believes they require a mix of sources to build roads, rails, ports, bridges and social service amenities, among others.
As such, the Finance and Planning minister , Dr Mwigulu Nchemba, said on Tuesday that a high credit rating would enable the country to get access to credit from the international markets on affordable terms.
"The rating is an opportunity for Tanzania to access the international financial markets and get the funds to finance the country's development projects," he said in a statement that was made available to the media on Tuesday.
The Moody's ratings will see Tanzania win the trust of international lenders and thus enable the country to not only access financing but also attract investment to propel economic growth.
Presenting the 2023/24 budget framework to MPsembers of Parliament on Monday, March 13, 2022, Dr Nchemba said the government plans to collect and spend a total of Sh44.388 trillion during the coming financial year.
Out of the money, however, Sh2.1 trillion will be borrowed from foreign sources on commercial terms.
Some Sh31.381 trillion will be sourced locally, while Sh5.466 trillion will be collected in grants and concessional loans from development partners. A total of Sh5.44 trillion more will be sourced as loans from domestic financiers.
Dr Nchemba said on Tuesday that the coming of the Moody's experts was in line with President Samia Suluhu Hassan's desire for Tanzania to undergo a creditworthiness rating exercise so it can access international financial markets.
"Moody's rating exercise will be conducted in close collaboration with the government in an effort to come up with credible outcomes regarding the level of economic, social and political development in Tanzania," said Dr Nchemba.
Currently, the Moody's experts are collecting financial and non-financial information, after which they will conduct an analysis by applying their relevant credit rating methodologies, which may include consideration of both quantitative and qualitative factors.
An independent financial analyst, Mr Christopher Makombe, said Tanzania's credit rating will impact the cost of its loans from international markets as a result of increased lender confidence in the country's ability to pay loans.
With a good rating, he explained, a country will be charged low interest rates.
Obtaining credit ratings, especially from respected agencies such as Moody's, said Mr Makombe, shows transparency by the country since the agency will need to dive deep into the country's financials.
This kind of transparency, he added, will boost investor confidence and have a positive impact on the economy.
"Credit rating is a good move in terms of loans that can be available for Tanzania and the charged interest rates," Mr Makombe told The Citizen by phone.
He said some lenders could not give loans to a country that is not rated. 
In October of last year (2022), Moody's changed Tanzania's economic outlook from stable to positive, attributing the improvement to President Hassan's pro-business approach.
"The outlook change to positive reflects Moody's view that political risks have lessened under the government's new approach to promoting economic development and engagement with the international community," Moody's said in October.
It stated in October 2022 that since President Hassan came to power, the government had vividly exhibited its efforts to improve the business and investment climate and attract Foreign Direct Investment, most notably in the mining and hydrocarbon industries. This, Moody's said, offers the prospect of higher potential growth and improved international competitiveness.
"Tanzania's re-engagement with the IMF ([the International Monetary Fund)] also has the potential to support higher government revenue generation capacity and unlock greater concessional financing from development partners, supporting debt affordability and increased social spending," Moody's said.
It said that such indications of lower political risk may improve the country's economic and financial environment and support Tanzania's capacity to face the implications of the global shocks following the Ukraine war.
In 2018, the government—under former President John Magufuli—trashed a sovereign rating that was published by Moody's.
The then permanent secretary in the Ministry of Finance and Planning, Mr Dotto James, said the published rating was "premature" and had no government consent.
In the rating in question, Moody's indicated that the balance of risks to the country's credit profile tilted to the downside due to an increasingly unpredictable policy environment weighing on the business climate.
"Uncertainty over the regulatory environment and policy stance of the government—particularly as it relates to the mining sector—could have a long-term negative impact on the country's growth potential and ability to attract foreign investment," Moody's rating statement said in March 2018