Plans to strengthen HESLB and expand lending scope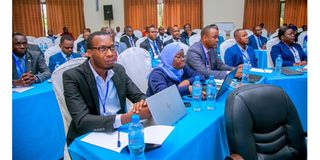 What you need to know:
HESLB has been recommended to improve debt collection procedures in partnership with other government agencies such as the TRA and Brela
Dodoma. After a long struggle to find a means to keep the Higher Education Student Loans Board (HESLB) sustainable, the government now has a chance if it works on at least seven suggestions from experts in the economic, financial, and academic sectors.
On Thursday, during the 1st Higher Education Students' Financing Conference, experts suggested that there be a government procedure to collect a certain percentage of the profits that banks and other companies announce every year and send to HESLB.
Likewise, it was suggested that there be a special fund (crowdfunding) that will enable Tanzanians, including the diaspora, to contribute to the credit board, as well as the establishment of a procedure to use bonds through the central bank for that purpose.
Financial institutions, especially banks, were asked to cooperate with the government in establishing a loan procedure for parents or guardians to finance their children's higher education studies, giving the example of NMB Bank, which has already initiated its own 'Elimu Loan' with an interest rate of nine percent per year.
However, the more than 100 experts who deliberated on the theme 'Rethinking the higher education students' financing in Tanzania', asked HESLB to strengthen the procedure of debt collection in collaboration with other government institutions such as Tanzania Revenue Authority (TRA) and the Business Registrations and Licensing Agency (Brela).
Also, the credit board was required to give loans based on the importance of the programme the student is going to take by looking at its contribution to the development of the country's economy and the possibility of the graduate being employed or self-employed.
It should be remembered that the government's decision last year to completely abolish all levies collected by HESLB was considered by experts as politics aimed at pleasing the beneficiaries who had a heavy burden to recover the debts that grew at a fast pace.
The decision was also taken as a blow to HESLB, which already had a challenge on debt collection despite the fact that there was a penalty for delayers, and thus it was a move to kill the board if alternatives were not devised.
Further, the increase in the number of students who will need to get higher education in the country within the next five years following the existence of the fee-free education policy from the primary and secondary levels is one of the concerns that stakeholders have had against HESLB.
But the government's promise to urgently work on the recommendations on Thursday is a step that brings relief and hopes to the higher education sector, according to experts.
Closing the meeting held in Dodoma, Dr Kennedy Hosea, Director of Higher Education in the ministry of Education, Science and Technology, said that the aim of the meeting was to collect opinions that would be worked on to improve and make HESLB sustainable.
He noted that the ministry had an important plan to expand the scope of lending to medium and technical colleges and in the current situation, they could not do without listening to stakeholders and experts' views through such a high-level forum.
"We are going to work on all the suggestions given here. We want to strengthen the provision of loans to students and expand the scope to other levels of education and this is the importance of this forum," he said, adding: "We will send those related to the finance ministry and the parliament so that they can also see how to work on them."
According to Dr Danford Muyango, Senior Manager-Public Sector at Equity Bank, the government's budget itself was not sufficient to cover loans for many needy students at the moment, so he said HESLB should start thinking about alternative methods.
"The government should consider establishing a specific strategy and passing a law that will require financial institutions and all companies that generate profits and are registered to give a certain percentage to finance higher education," he said. He suggested three percent be a part of the education fund every year from those companies, giving examples of telecom companies and banks that, last year, made a profit of more than Sh3 trillion.
For his part, Dr Martin Chegere, a senior lecturer from the University of Dar es Salaam (Economics) explained that the free education policy forces universities to find a budget to increase buildings and employ more lecturers to serve the many new students.
According to Chegere, even now the loans given to students are not enough because there are already many who end up missing out, thus causing others to lose their motivation and dreams to continue with their studies.
"When HESLB was created, it was supposed to be able to operate itself by managing lending and loan repayment; although every beneficiary needs to be responsible for loan repayment, additional power is needed to ensure that the scheme is indeed revolving," he said.
Dr Mariam Tambwe, from the College of Business Education, said it was the right time for the government, in collaboration with stakeholders, removed dependence on HESLB, which is already overwhelmed by those in need of loans.
"HESLB can place bonds for education issues at the Central Bank or borrow from banks at a low-interest rate for lending to students so that they can return through the collection of loan repayments," she suggested.
"As a country, we can have a common fund (crowdfunding) where every Tanzanian including the diaspora can contribute a certain amount for lending to students through HESLB," she explained.
On the other hand, Dr John Kalage, executive director-HakiElimu noted that many students have been receiving loans, but the amount of money given to them has not been satisfactory and sometimes does not help them meet their education needs.
"While we are delighted about the government giving loans to thousands of students, going forward we must be able to also reflect and rethink the amount that these students are receiving and find ways to improve and help them," he said.
Dr Havija Kweka, executive director of the Enhance Tanzania Foundation, said that NMB Bank has given a good example of how banks and other financial institutions can participate in lending to students.
"This bank does not lend to the student, but lends to the parent or guardian, siblings, and other relatives through their salaries to be able to cover their children's studies and then they will be deducted a small amount with a small interest through their salaries. This is a simple and quick way to go," she suggested.
Meanwhile, according to Abdul-Razaq Badru, HESLB's executive director, since 2005, the government has invested Sh5.9 trillion to pay for higher education students, of which, Sh1.5 trillion has been recovered. According to him, every year HESLB can collect returns of not less than Sh180 billion, up from the Sh30 billion it collected six years ago.