Samia's leadership style in focus as CCM clocks 46 years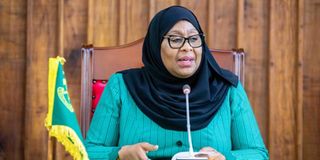 What you need to know:
President Hassan's 4Rs strategy of Reconciliation, Resilience, Reforms and Rebuilding the nation has facilitated the lifting of the ban on political parties
Dar es Salaam. As the ruling party CCM marks 46 years of existence its chairperson Samia Suluhu Hassan faces a difficult balancing act as the public's demands for opening the political space clash with totalitarian tendencies of hardliners in the party.
Analysts say President Hassan has so far treaded the fine rope quite steadily as she facilitated the return of opposition exiles and allowed opposition political rallies, but she has to make up with hardliners within the party with an eye to smooth sailing in intraparty political intrigues towards 2025.
As chairperson it is difficult to know where she stands in the ideological spectrum within the ruling party. But President Hassan, who inherited the party with its right wing highly emboldened, has successfully tried to take her case to the people by increasing CCM's public appeal through undertaking various social and economic projects as well as continuing implementing her predecessor's grand infrastructure projects.
Originally, CCM marketed itself as a party that cared for the needs and aspirations of peasants and workers.
But at some point in its history, the party was riddled with factionalism, rent-seeking and rampant corruption that saw political stakeholders doubting whether it was still an active ally of peasants and workers in their struggle for survival.
But having assumed leadership about two years ago, President Samia Suluhu Hassan, the first-ever CCM's female national chairperson, seemed to be aware of people's discontent on the performance despite winning elections and retaining a majority in Parliament and city and town councils. This drove her to undertake reforms that have started to re-orient public perception towards CCM, analysts say.
With a majority of Tanzania's farmers depending on rain-fed agriculture, some analysts say President Hassan's decision to raise the agriculture budget by injecting more funds into irrigation was a smart move to return the ruling party back to its fundamentals.
In a deliberate move to boost agricultural production with an emphasis on irrigation, President Hassan's administration raised the budget for the agriculture sector to Sh954 billion in the current fiscal year from only Sh294 billion in 2021/22.
Similarly, in May this year, President Hassan approved a nearly 23.3 per cent increase in the minimum wage for public workers, bringing a new hope to workers who have not had their salaries adjusted since 2016.
In December last year, the government also announced new wages for the private sector.
Although it's quite natural for the anniversary to be celebrated with particular enthusiasm because the 46-years journey has never been smooth, farmers and workers who actually tend to be CCM's loyal supporters would need to see the party get back to its roots.
A reliable source within CCM said: "President Hassan has come with a very different leadership philosophy, though the conservatives within the party claiming it's uncalled for, arguing that it may damage the party in the coming elections."
On his part Dr Richard Mbunda, a Political Scientist from University of Dar es Salaam (UDSM) said at some point CCM had diverted from its core principles and ideology of being a party that supports the struggle of the country's peasants and workers.
"In their official documents they still claim socialism or Ujamaa as their official ideology but they don't practice it. In the UK, for instance, the Labour Party is totally and completely engaged with workers, the party's agenda, and policies reflect workers' needs," he illustrated.
Dr Mbunda said the task ahead of CCM was to make more efforts to uplift the lives of farmers and workers in line with the party's ideologies.
Nevertheless, Dr Mbunda further explained, if President Hassan has managed to reconcile with the opposition, then she can initiate the process of reconciling aggrieved factions within her party.
Analysts say that if President Hassan's 4Rs strategy of Reconciliation, Resilience, Reforms and Rebuilding the nation has facilitated the lifting of the ban on political parties there is no reason why the same spirit of reconciliation should not work to help her within her own party.
The six-and-a-half year ban on political rallies was lifted early January, 2023.
"Usually, leadership style plays an important role and affects party behaviour. During former President John Magufuli's era everyone within CCM appeared radical, yet with President Hassan at the helm the political atmosphere has changed, things are calmly and peacefully moving," he said.
Mr Mark Mapambano, Political Analyst, acknowledged the fact that President Hassan inherited a divided and grieving party saying but has somehow been able to usher in some harmony: "The chairperson will need to reconcile them and build one and strong party."
Mr Mapambano commended CCM's national chairperson for embracing and promoting gender equality saying it is a good thing as equal chances are necessary components of a just society, which translates to national security.
While hoping that much more would still be needed to boost agricultural productivity, Dr Ally Juma, an Agriculturalist, however commended the CCM chairperson for deciding to allow the opposition to conduct politics peacefully.
"Politics isn't enmity…Constructive politics is needed for the country's development. This is what we all need."
In light of the continuing uncertainty about whether CCM is going to reunite after years of infighting, Dr Juma said: "Factions within CCM are always there but the party never splits, individuals may defect, but the party will always survive."
Meanwhile speaking during an event to mark the ruling party's 46th anniversary celebrations in Dar es Salaam yesterday, the Vice President, Dr Philip Mpango, said so far the country's macroeconomic fundamentals are still sound despite the ongoing geopolitical tensions in the developed world.
"The country's inflation rate, which stands at 4.8 per cent, is still stable if you compare with Burundi whose inflation rate stands at 20.6 per cent, Uganda 10.1 per cent and Kenya 9.2 per cent," said Dr Mpango, who is also a CCM Central Committee member.
He also revealed that the government's plan was to turn the famous Kariakoo District into the Dubai of Dar es Salaam.
Speaking during a similar event in Morogoro, the CCM Youth Wing (UVCCM) national chairman, Mr Mohamed Ali Mohamed, alias Kawaida said they will do whatever it takes to empower young people economically.
As such, the party's youth wing will conduct tours of various district councils across the country with the aim of ensuring that the funds meant to finance income-generating activities for the youths are effectively utilized.
CCM's Secretary General Daniel Chongolo urged Tanzanians to value the government's investments in water projects by protecting them against vandals and environmental destruction.
"We must take good care of water resources and the environment, or else we will face water challenges in future," cautioned Mr Chongolo in Morogoro yesterday.
He urged the ministry of Water to speed up the execution of water projects in the country and the deputy minister for Water, Maryprisca Mahundi said the ministry will act accordingly.
She expressed the government's commitment to bringing water projects closer to citizens.
"Carrying a bucket of water on your head will be a thing of the past in the near future. This is our commitment," noted Ms Mahundi.
Responding to Mr Chongolo who wanted him to explain the government's plan to address inflation, Agriculture minister Hussein Bashe said the government was employing two ways to address inflationary pressures of food commodities.
Apart from selling its food stock to citizens, the government was also supplying subsidized fertilizer to farmers to lower operational costs and increase productivity.
Mr Bashe said so far the government has supplied 23,000 tonnes of maize to 47 councils in the country.
"In the near future, we expect to supply 40,000 tonnes and let me make myself clear, we don't sell food to traders, but to individual citizens at the identified centres," he explained.
On the question of subsidized fertilizers, he said so far the government has supplied 247,000 tonnes of fertilizer to the food basket regions.