Samia's Mbeya tour charts development map for region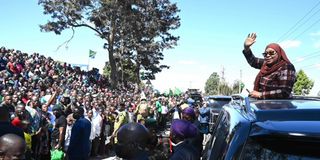 What you need to know:
Mbeya is one of Tanzania's strategic regions when it comes to food security and cross border businesses with neighbouring Malawi ...
Mbeya. President Samia Suluhu Hassan has had a busy schedule during the past few days as she criss-crossed all the five administrative districts of Mbeya Region for official activities.
President Hassan had been to Mbeya Urban, Chunya, Rungwe, Kyela and Mbarali districts where she graced various development projects related to agriculture, water, education, health and roads.
The most notable of the projects she graced was her officiating of the climax of the Nane Nane Day at the John Mwakangale grounds on Monday.
On that particular day, President Hassan launched a landmark fertilizer subsidy programme geared at reducing fertilizer prices to levels that are affordable to most farmers in Tanzania.
Located within the Southern Agricultural Growth Corridor of Tanzania (Sagcot), Mbeya Region is among the most important areas in the country for agriculture, particularly for its rice, which is recognized for its superior quality throughout Tanzania and beyond.
With the zeal of transforming agriculture, the subsidy arrangement means that a bag of DAP, which previously sold for Sh131,675 will now cost Sh70,000 only while that of Urea, which used to fetch Sh124,714 will also cost only Sh70,000.
Similarly, a bag of CAN, which used to fetch Sh108,156 will now cost only Sh60,000 while that of NPK fertilizer type, which used to cost an average of Sh122,695 will now be sold for Sh70,000.
Under the subsidy arrangement, the government will pay Sh52,000 of the price of a bag of fertilizer.
The fertilizer subsidy programme is in line with the 'Ajenda 10/30' which President Hassan launched in April, this year.
The 'Ajenda 10/30' details the Agriculture ministry's efforts to rally both public and private sectors to turn around the fortunes of millions of people eking out a living in the agriculture value-chain.
With 'Kilimo ni Biashara [farming as an economic undertaking]' as its clarion call, 'Ajenda 10/30 aims to attain an impressive 10 percent annual growth rate for the sector that is the livelihood for some 65 percent of Tanzanians.
The target should be met by 2030. The current growth rate is a measly two per cent while the government's five year development plan projects the growth at 5.7 percent by 2025.
While at the same location, the Head of State witnessed the signing ceremony of a Public Private Partnership (PPP) initiative between the Ministry of Agriculture and some members of the private sector.
Through the PPP, 21 irrigation projects worth Sh182 billion would be built countrywide in a deliberate move to revamp the sector from a rain fed into a sustainable one.
Figures from the Ministry of Agriculture shows that the Sh182 billion is equivalent to 51 percent of the total funds allocated for the construction of new irrigation projects in the country.
In line with the zeal of transforming agriculture, the President directed Finance and Planning minister Mwigulu Nchemba to swiftly disburse Sh150 billion meant for the fertiliser subsidy programme.
"Our aim is to turn food crops into commercial ones. When we were discussing the need to significantly raise the budget for the Ministry of Agriculture, Finance minister could not believe that the funds could actually be utilized.
"However, I'm sure he can now witness how things are turning in our favour," she said, adding: "I want to see the subsidized fertilizer start being available in the market by August 15, this year. I want to see the Sh150 billion released immediately, as well as 15 percent which serves as down payment for 21 irrigation projects that we have witnessed their signing here."
President Samia directed regional commissioners, district commissioners and district executive directors to allocate land for agriculture in the form of block farming, saying that was the way to go. The country's youth, she said, should utilize the opportunity and be issued with title deeds of agricultural land in their groups.
"This will help you as an individual or group to access agricultural financing," she added.
According to her, the government has already undertaken necessary actions which include, the allocations of land, soil testing, installation of irrigation infrastructures and modern agricultural technologies. "You will cultivate the land with market assurance of your produce," she said.
According to Agriculture minister Hussein Bashe, increased fertilizer use could lead to immediate and important increases in yields, adding that the current average fertilizer application rates in Tanzania per acre was 19kg against a recommended rate of 53kg.
The President's tour also saw her inaugurating a Sh3 billion Shongo-Igale Water project in Mbalizi and another Sh2.8 billion worth project at Makongolosi.
President Hassan said the government was confident to attain water availability in rural and urban areas by 85 and 95 percent respectively come 2025 as envisioned by the 2020 election manifesto of the ruling CCM.
Therefore, the President urged the residents to protect such launched projects saying: "Water projects are costly and that is why you don't see the private sector investing in them," said President Hassan, calling upon residents to take good care of the projects.
She also warned the authority responsible for the city's water supply (Mbeya Water Supply and Sanitation Authority) saying they should ensure that water flows freely and shun a tendency of inaugurating projects only when the President was there and shortly thereafter, the taps run dry.
Knowledge, competence do matter
President Hassan also inaugurated infrastructure improvement projects at Mpuguso Teachers' Training College in Rungwe District as well as laying a foundation stone for the construction of a Vocational Education and Training Authority (Veta) centre in Mbarali.
While there, her pledge was that her government was reforming and improving the country's education sector in efforts to enable graduates to venture into entrepreneurship in case the available job opportunities do not absorb them all.
"We need to see graduates acquiring knowledge and competent skills through which they will be able to self-employ. I want to see graduates with a clear direction in mind of where they will be heading to after their schooling," she said.
She said the government would ensure regular curriculum and education policy reviews while also allocating adequate budget for teaching and learning infrastructure and ensuring relevant teaching methodologies to enable educators to equip students with required skills necessary for employability.
President Hassan expressed her satisfaction with the execution of the expansion of a maternity wing at the Mbeya Zonal Referral Hospital where the government is spending some Sh11 billion.
In line with her much-publicised economic diplomacy, President Hassan saw the one-stop border post (OSBP) at the Kasumulu border between Tanzania and Malawi as a worthwhile investment for the general good of both countries.
The President also laid the foundation stone for a 39-kilometre road covering Kikusya-Ipinda-Matema. She announced to work on a plea by residents in the area to talk to her Malawian counterpart to allow passenger and cargo ships to ply on both sides of Lake Nyasa.
"This, I'm taking up and soon I'll visit the countries and I will talk about this with my counterparts," she said. In what would also open some areas of Mbeya to Zambia via Tunduma as well as the entire region to Singida and Tabora, President Hassan inaugurated a tarmac road project from Chunya – Makongorosi.
"Make sure you protect these projects. Basically, it should take between seven to 10 years before carrying out an initial maintenance to any contracted road. Unfortunately, we conduct maintenance just within two or three years after the construction," he said, adding that: "We ought to protect our infrastructures. I am told that the lifespan of a bridge is 70 years but there is a bridge in Kipoka where people are doing mining activities beneath. This must stop," she said.