Sh266 billion fishing port to change sector's fortunes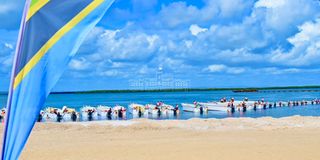 What you need to know:
Construction of the Kilwa Masoko fishing port is expected to create 30,000 jobs as Tanzania looks to improve performance in deep-sea fishing
 
Dar es Salaam. The long-awaited fishing port's construction officially started yesterday, signalling the beginning of what seems to be a new phase in Tanzania's development of the fisheries sector.
The Kilwa Masoko Fishing Port is expected to create 30,000 jobs as Tanzania follows some of its regional rivals in capitalising on the vast potential of deep-sea fishing.
President Samia Suluhu Hassan officially launched the construction of the port yesterday, which will cost the government a total of Sh266 billion. The actual construction will take 36 months.
Mr Abdalla Ulega, Minister of Livestock and Fisheries, remarked during the event that the project is a critical step in catalysing Tanzania's growth trajectory. In addition to laying the foundation stone, President Hassan presented 160 boats to small-scale fishermen and seaweed producers.
"Today, you have written history with a gold pen by making this massive investment that will benefit fishermen and other people in Kilwa and beyond," he said.
He stated that the foundation stone will open the way for the harbour's construction, which will include a warehouse comparable to those in Mombasa and Seychelles, on which Tanzanian fishermen have long relied.
When finished, the facility will be able to accommodate more than 10 huge ships from anywhere in the world at any given moment.
The harbour will be able to accommodate a significant number of canoes, boats, and ships, employing over 30,000 young people from Lindi, Kilwa, and other parts of the country.
It will also include a storage facility for about 90 tonnes of frozen fish and 1000 tonnes of iced fish.
"We will also have a fish processing facility, where we will empower communities and enable fishermen to transition from fishing 1kg to 100 kg of fish per day, while women will generate more than 4000 tonnes of seaweed to 10,000 tonnes," he said.
The minister praised the President for the significant achievement and for increasing the ministry's budget from Sh176 billion for 2022/23 to Sh295 billion, a more than Sh100 billion increase. President Hassan stated in her remarks that plans to develop a similar port in Bagamoyo were also in the works.
She said the Kilwa facility will not only open doors for fishermen but also to those involved in the value-adding processes of fish and fish products.
"Through this milestone project, if Kilwa does not change, there is a need to sit down and evaluate what the problem is because the government is disbursing a lot of funds to empower the people and solve their challenges," she stressed.
According to her, the project is expected to create employment by helping women involved in seaweed travel further for the crop and transport loads from the deep sea. The fishermen will also be able to go to where the fish are in the deep sea.
"We will not accept boat-related conflicts, but they should be used to empower you and secure loan repayment so that the government may continue to empower individuals in the blue economy in other areas," she said.
She said the construction is expected to take 36 months, including 24 months for construction and one year of supervision.
"Kilwa offers several potential in the blue economy, including tourism, and the government is creating a welcoming atmosphere for those interested in this industry. We are considering constructing a port at Bagamoyo because the size of the coastline zone will attract numerous foreign ships," she said.
She promised to look into improving the airport to enable cargo derived from fish in Kilwa to be transported to markets but cautioned that it will only be possible if the business proves to be promising.
On claims of compensation to pave the way for the construction of the port that were raised before her by Kilwa South Member of Parliament Ali Kasinge, she said that there was a need to look into the claims to understand why, in 20 years since 2003, they had not been resolved before the government could come in.
On ending the contract for Kilwa Yacht Club, she said it was not possible to do so unless they had defaulted on their contract because doing so would bring an international dispute to the country.
She cautioned fishermen that using fireworks to catch fish was the reason why a majority of fish had gone to the deep sea, and if they continued, they would not be able to catch fish despite having boats.