TRA return confiscated goods to Kariakoo traders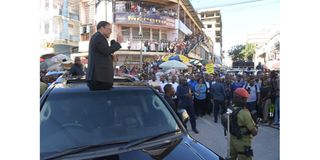 Dar es Salaam. The Tanzania Revenue Authority (TRA) has started implementing Prime Minister Kassim Majaliwa's directives by returning confiscated goods to Kariakoo traders.
The taxman seized goods belonging to traders allegedly for lacking Electronic Fiscal Device (EFD) receipts and for other irregularities.

TRA's return of goods is part of the implementation of the issues that the 14-member committee formed to identify challenges facing traders conducting their activities at the Kariakoo International Market and other cities in the country was tasked to deal with.
As he tried to resolve the recent Karikoo trader's strike, the Premier voiced worry that businesses might decide to discard goods that have been confiscated since they are cheap in comparison to the fines they are expected to pay to the taxman.

"TRA has begun returning seized goods to owners," said the TRA director of Services and Taxpayers education, Mr Richard Kayombo.

He told The Citizen that the goods were impounded during the operations targeting sellers and buyers who did not have EFD receipts.

In the recent TRA announcement, goods owners were directed to visit the bonded warehouses with documents describing their ownership of confiscated goods.

The announcement required traders to be ready for the payment of the Sh30,000 to Sh150,000 fine instead of the previous Sh30,000 to Sh1.5 million charged for the possession of goods without EFD receipts.
The committee member and chairman of the Kariakoo Business Association, Mr Martin Mbwana, said the decision was a win-win situation between TRA and traders.

"When traders' goods worth Sh700,000 are seized and they are required to pay a Sh1.5 million fine, they are simply tempted to abandon the possessions with the taxman," he said.

"Therefore, the committee agreed to reduce the fines to enable the two sides to share the spoils," he added.

As it turned out, however, only two owners out of over 100 turned up for the collection of goods at the TRA warehouse.

The Citizen could not immediately establish why the turnout was so low despite the reduced fines. Neither was Mr Kayombo ready to comment on the issue.