VAT relief fails to cut down price of sanitary pads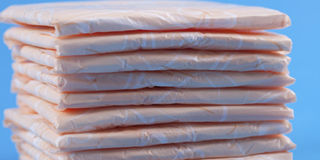 What you need to know:
Concerns have been raised that the removal of the value-added-tax on sanitary towels has not been felt at the market as prices remain high

Dar es Salaam. The much sought after relief in the price of sanitary pads has not been experienced even as the government removed the Value Added Tax (Vat) on the products in the current budget.
The exemption was meant to make the towels affordable and accessible to all users.
However, the 2018/19 budget did not exempt the products from import and excise duties, a reason being given for the continued high prices of the commodities.
The KPMG Tanzania, audit and tax firm, in its last June report titled "Budget Brief 2018" had challenged that the proposed Vat exemption may not achieve its intended goal as it may result to an increase in price due to the manufacturers' inability to offset their input Vat on raw materials used in the manufacture of the sanitary pads.
Suppliers had also requested that other than VAT, the government should consider reducing excise duty as that would have a significant impact on pricing.
Health minister Ummy Mwalimu, however, yesterday said she wrote to the ministries of Finance and Trade urging them to direct manufacturers to reduce the prices.
The minister was concerned that prices remained high despite the VAT relief. She said sanitary pads were still not accessible to the intended beneficiaries of the exemption.
The abolition of the tax was announced by the minister for Finance and Planning, Dr Philipo Mpango, as he read the government budget for 2018/19 Financial Year in the Parliament on June 14, 2018.
A survey by The Citizen established that currently, prices of the towels range between Sh1,500 and Sh3,500 depending on quality.