What new e-Procurement system means for Tanzania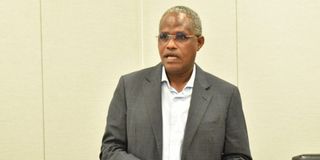 What you need to know:
The new electronic system is intended to modernise the public procurement process, ushering in a new era of efficiency and openness while mitigating revenue losses
Iringa. The Tanzanian National e-Procurement System (Taneps) will be replaced by the National e-Procurement System of Tanzania (NEST), according to the government.
The new electronic system is intended to modernise the public procurement process, ushering in a new era of efficiency and openness while mitigating revenue losses.
NEST is expected to be launched next month, promising to revolutionise public procurement and marking it as a crucial moment in the country's administrative landscape.
The new system encompasses a wide array of functionalities, from e-registration, e-tendering, e-contract management, e-payment, e-catalogue, and e-auctioning.
Parliamentary Budget Committee chairman Daniel Sillo commended the system's development using young Tanzanian professionals.
"This investment in home-grown talent reflects a commitment to harnessing local capabilities to drive technological advancements in the country," he said.
He said the recent endorsement of the Public Procurement Act further bolsters NEST's prospects as the legislation addresses challenges that existed in the old law and aligns procurement practices more closely with actual market prices.
Mr Sillo said a substantial 70 percent of the government's budget is allocated to procurements, noting that the introduction of robust laws and systems was pivotal to safeguarding government funds.
He called for increased accountability within the public service, urging that public servants who have deviated from stipulated procurement procedures not be spared from appropriate consequences.
"To put this into perspective, over Sh23 trillion of the Sh43 trillion in the fiscal year was allocated for public procurement. NEST promises to stem the tide of revenue loss," he said.
Furthermore, Mr Sillo said the new system is expected to enhance transparency in public procurement, foster responsible management of public funds, curb corrupt practices, ensure compliance with the law, and strengthen procurement oversight.
According to him, the comprehensive approach to procurement aligns with international best practices aimed at bolstering the country's economic and administrative position.
Public Procurement Regulatory Authority (PPRA) chief executive officer (CEO) Eliakim Maswi urged members of the business community to embrace NEST if they wish to engage in government contracts.
He insisted that President Samia Suluhu Hassan's determination was to elevate the authority's performance and harness electronic systems to enhance productivity and efficiency.
It is crucial that institutions under the Treasury Registrar (TR) and regional administrations, along with Local Government Authorities (LGAs) transition to the NEST system for their procurement activities.
As Tanzania embarks on this transformative journey in public procurement, Mr Maswi said it is clear that NEST holds the promise of reshaping not only the fiscal landscape but also the very core of governance.
With its emphasis on efficiency, transparency, and accountability, NEST represents a giant leap forward in the pursuit of a more prosperous and responsible Tanzania.
"As the October launch date approaches, the nation eagerly anticipates the positive impact that NEST will bring to public procurement and governance as a whole," said Mr Maswi.