Kenyan motor rally driver charged with murder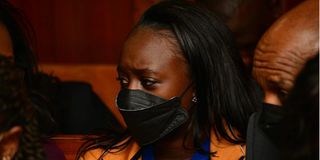 Summary
The 26-year-old denied the charge when she appeared by video link at the high court in the capital Nairobi
Nairobi. Kenyan motor rally driver Maxine Wahome was on Wednesday charged with murder over the death of her boyfriend, a day after she was found fit to stand trial.
The 26-year-old denied the charge when she appeared by video link at the high court in the capital Nairobi.
Wahome is accused of attacking her 50-year-old boyfriend and fellow rally driver Asad Khan at their apartment in December last year.
Khan succumbed to injuries on his right ankle after a week in hospital.
"I am not guilty," she told the court.
Wahome won acclaim when she became the first Kenyan woman to win the third-tier WRC Safari Rally last year. Last week, she was dropped from the WRC Young Rally Stars programme.
In court filings seen by AFP, Wahome said Khan hurt himself after kicking a door to a balcony where she had sought refuge after a fight with him.
"The deceased thereafter injured himself on the balcony window panes and took himself to hospital," she said.
The judge ordered her to be be remanded in prison until March 21 when her application for bail would be heard.