Makonda to buy 1,000 tickets for orphans to watch Taifa Stars match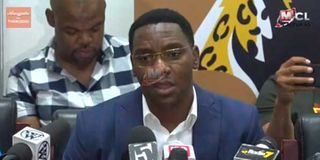 Summary
The chairman of a special committee formed to ensure the national soccer team, Taifa Stars' victory, Paul Makonda will buy 1,000 tickets to enable orphans watch Africa Cup of Nations (Afcon) match against Uganda at the National Stadium on Sunday

Dar es Salaam. The chairman of a special committee formed to ensure the national soccer team, Taifa Stars' victory, Paul Makonda will buy 1,000 tickets to enable orphans watch Africa Cup of Nations (Afcon) match against Uganda at the National Stadium on Sunday.
Makonda, who is the Regional Commissioner for Dar es Salaam, said yesterday that the committee has already bought 1,300 tickets to be given out to soccer fans who will like to watch the match live from 7pm.
 "I have been touched by orphans who cannot attend the encounter due to various reasons. I want them to be part of the country success in football and witness our national team record victory against Uganda. So 1,000 tickets would be distributed to various orphanage centers in the city," said Makonda.
"My committee has so far bought 1,300 tickets for fans. I will add another 1,000 for orphans in various centres to enable them watch the game. Their presence in the stadium will motivate our players to do their best in the encounter, we want victory and not otherwise," said Makonda.