Rain surprises Tanzanian drivers at Guru Nanak Rally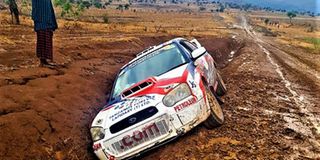 Summary
Ugandan Driver Yassin Naser, who was driving in a Subaru Imprezza emerged winner.
Arusha. After a long dry spells in most of the Northern Regions, the heavens finally opened  during the Guru Nanak Motor Rally in Arusha, something that took local drivers by surprise.
Jamil Shahbhai, driving a Subaru Impreza MY03 with navigator Ally Hamoud veered off road into a ditch after the car skidded on muddy road in the second leg of the race which took place in Monduli Juu
"It took us more than an hour before we could get rescued and by that time it was already too late for the third section," said Shahbhai.
Apparently rains took them by surprise, they did not anticipate the downpour  as a result they were caught off-guard without the special tires for muddy and slippery terrains.
The car was damaged and currently undergoing repairs ready for the forthcoming Morogoro Atlantic Rally in December.
On his part, driver Harinder Deere with co-driver Zubayr Piredina of the Fuchs Titan Team says he was on the lead up to section four and was headed for a win when rain struck.
"Many people know about the black cotton soil and how bad it can affect traction in the rain, we skidded into a gully and lost time while trying to retrieve it," he said.
The Rally featured 12 cars, but only nine teams made it to the finishing point.
Ugandan Driver Yassin Naser, who was driving in a Subaru Imprezza emerged winner.
Naser, together with Ali Katumba, his navigator, was racing as the Moil Rally Team from Kampala.
Manveer Birdi from Tanzania with his Kenyan navigator, Ravi Chana finished second.
The third winning team was Tufail Amin with Co-Driver Manmeet Birdi.
Tufail says his car suffered three tire punctures and drove three stages with failed brakes.
Meanwhile Dharam Pandya, the ace motorist who holds the second position in the National Rally Championships, intends to restore his former glory in the forthcoming Morogoro Atlantic Rally in December.
Having finished fourth in the just ended Arusha Guru Nanak Rally, Pandya said the Morogoro event will be closing the racing rounds for this year and he intends to use it as a springboard to higher grounds.
 "We move from scorching sun to pounding rains within the same territory of Monduli District," he says.
He said the rally saw several cars going off-road and others landing in ditches.
"However, we are lucky to finish in one piece, as the road was muddy, sandy and dusty at the same time, thus making it difficult to both handle loose traction on sand and muddy terrains," he stated.
The Pandya team navigator during the Guru Nanak Rally was Mustafa Ali.