Seven teams in relegation zone as NBC League hots up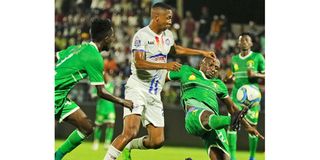 Summary
The 21st round's fixture shows that Geita Gold FC will face Polisi Tanzania at the Nyankumbu ground and later at 7pm Kagera Sugar will host Coastal Union at the Kaitaba Stadium
Dar es Salaam. As the Mainland Tanzania Premier League continues tomorrow with two matches in the schedule, seven teams are facing relegation to Championship formerly, the first division league.
The 21st round's fixture shows that Geita Gold FC will face Polisi Tanzania at the Nyankumbu ground in Geita and later at 7pm Kagera Sugar will host Coastal Union at the Kaitaba Stadium in Kagera.
The matches are important to all the four teams and victory will improve their chances in the league standings.
Polisi Tanzania, under head coach Mwinyi Zahera, are struggling to avoid demotion from the league as they sit at the bottom of the league table with 14 points while Geita Gold FC are placed fifth with 27 points from 20 matches.
The league table also shows that Ruvu Shooting are in the danger zone and will have to fight for survival. The team is placed 15th with 14 points from 20 matches.
 Polisi Tanzania's victory against Geita Gold FC will make them leapfrog Ruvu Shooting in the 15th position as they will collect 17 points.
Basically, the league has now been divided into three groups, whereby the first group with three big guns, Young Africans (Yanga), Simba and Azam FC is chasing the title while another group has teams that fight as top 10 finishers and the last group has teams that struggle to avoid relegation.
Yanga are leading the league standings with 53 points, nine ahead of Simba, who are placed second with 44 points from 19 matches. However, Simba were in action yesterday night against Mbeya City at the Benjamin Mkapa Stadium. Yanga are also 10 points ahead of the third placed team Azam FC.
Also, in the top five are Singida Big Stars, who have collected 40 points from 20 matches and Geita Gold FC with 27 points from 20 matches respectively.
Apart from Polisi Tanzania and Ruvu Shooting, other teams that are struggling to avoid relegation are Coastal Union, who are placed in the 14th position with 18 points, Ihefu FC (13th, 20 points), Dodoma Jiji FC, who are placed 12th with 21 points, Tanzania Prisons with 21 points and placed 11th and Mbeya City who are in the 10th position with 21 points.
Ihefu FC head coach Zuberi Katwila said they are optimistic about avoiding the demotion zone, despite the league being very tough.
"For now, it is too early to say which team will be relegated to Championship," he said.