Social media scam of the century?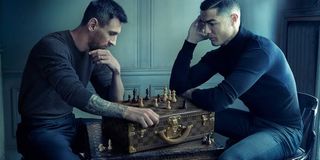 Summary
The photo of the Manchester United and PSG stars is said to be well on track to breaking the record of the most liked photo on Instagram—a photo of an egg, which has over 55 million likes since being posted in 2019.
Dar es Salaam. What is touted to be one of the greatest photos in sports history—the "photo of the century"—has also raised some questions.
Football stars Cristiano Ronaldo and Lionel Messi both posted a photo where they starred in their first ever joint advertisement promoting the luxury clothing brand Louis Vuitton.
The two long-term rivals have become icons of the game throughout their glittering careers - and have now teamed up to help produce an image for the ages. Both players are involved in the latest advertising campaign for fashion brand Louis Vuitton and were photographed sitting opposite each other at a chess board.
No strangers to coming up against one another, the two legends look engrossed in their game as they pit their wits on a board fashioned from a Louis Vuitton branded suitcase. Sporting a grey round neck jumper with sleeves rolled up to bear his tattoos, seven-time Ballon d'Or winner Messi is holding one hand on his chin as he ponders his next move.
Meanwhile, five-time Ballon d'Or winner Ronaldo, in navy turtleneck jumper, watches on intently as he considers how he might counteract the Argentine. Both players shared the image on their social media accounts, along with the caption: "Victory is a State of Mind. A long tradition of crafting trunks."
The image was shared by both the footballers on the eve of the start of the 2022 FIFA World Cup in Qatar, through their Instagram handles and the image simply shattered all social-media websites. While some called it "iconic", others hailed it as the "picture of the century", but there was a certain group of fans who'd worked out a crazy World Cup theory behind the picture.
The 'LV' briefcase on which Ronaldo and Messi are playing chess was part of the 2018 World Cup in which the FIFA World Cup trophy was presented ahead of the opening fixture and the final.
It was being suggested the bag is a metaphor for holding the trophy while the chess board shows Ronaldo and Messi making moves for their teams to advance to the final.
The photo quickly became an internet sensation. Within hours, it had garnered millions of likes on Renaldo's and Messi's Instagram accounts. With close to 500 million IG followers, Ronaldo attracted over 30 million likes within 24 hours.
However, the next day, behind-the-scenes footage was posted by both superstars. People were quick to notice that the two football greats might have actually taken the photos separately.
This began spreading rumors about Photoshop being used to create the iconic image. Within hours, the videos that were posted on the three accounts (Ronaldo, Messi, and Louis Vuitton) were taken down.
The comments had already piled up, with some saying they wished they hadn't seen the behind-the-scenes video.
The photo of the Manchester United and PSG stars is said to be well on track to breaking the record of the most liked photo on Instagram—a photo of an egg, which has over 55 million likes since being posted in 2019.
A few days back, in his intervew with Piers Morgan on TalkTV, Ronaldo had opened up on his true feelings towards Messi and the rivalry they share.
He said: "Amazing player is magic, top… As a person, we share the stage 16 years, imagine, 16 years. we share. So, I have great relationship with him. I'm not friend of him in terms of, what I mean friend is the guy who was with you in your house, speaking on the phone, no, but it's like a teammate.
"He's a guy that I really respect the way he always speak about me. Even his wife or my wife, my girlfriend, they always respect and they're from Argentina. My girlfriend is from Argentina. So good. What I am going to say about Messi? A great guy who does great things for football."
For Messi and Ronaldo. The Qatar World Cup will be their last dance. While Ronaldo hasn't confirmed yet, Messi certainly has. And fans feel that the very social-media post made by the two footballers hint towards a showdown between Argentina and Portugal for the final.
After a 5-0 victory against the United Arab Emirates, Messi will lead Argentina against Saudi Arabia in their opening group game scheduled for Tuesday, November 22.
Ronaldo and Portugal recorded a comfortable 4-0 win against the Super Eagles of Nigeria and will begin their campaign against Ghana on Thursday, November 24, 2022.