What Ethiopia needs is a UN probe into genocide in Tigray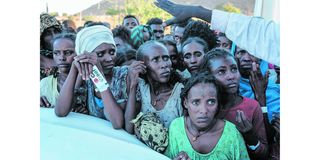 I was astonished to read an editorial in The Citizen of Sunday, April 18, 2021 supporting the call by the Ethiopian ambassador to Tanzania for international intervention to back his government in rebuilding the Tigray region. The ambassador, Yonas Sanbe, was earlier quoted in a story in The Citizen saying the Ethiopian government was striving to rebuild the region following extensive damage to roads, bridges and power and telecommunications infrastructure, as well as restore financial services.
The Citizen followed up with an editorial that fully and unquestioningly supported the envoy's remarks. It was shocking to see the story, and extremely sad to read the editorial. No reference whatsoever was made to the suffering of the people of Tigray. There was no mention of the causes of the war, or Eritrea's involvement in ethnic cleansing in Tigray. It was irresponsible journalism, to say the least.
Numerous independent international reports, including Amnesty International's recent statement, laid bare the extent of violence that civilians in Tigray have had to endure over the last three months, and in particular the atrocities that took place in November 2020 during an offensive to take control of Axum by Ethiopian and Eritrean troops. The report (https://www.amnesty.org/en/latest/news/2021/02/ethiopia-eritrean-troops-massacre-of-hundreds-of-axum-civilians-may-amount-to-crime-against-humanity/), issued in February 2021, concluded that the indiscriminate shelling of Axum by Ethiopian and Eritrean troops may amount to war crimes, and the slaughter of hundreds of Axum civilians by Eritrean troops could amount to crimes against humanity.
CNN conducted an investigation, and verified footage of massacres in Tigray. Doctors also said rape was being used as a weapon of war in what amounted to genocide (https://edition.cnn.com/2021/03/19/africa/ethiopia-tigray-rape-investigation-cmd-intl/index.html ).
UN Commissioner for Human Rights Michelle Bachelet called for an independent investigation into claims of genocide against the Tigrayan ethnic group (Ethiopia: Persistent, credible reports of grave violations in Tigray underscore urgent need for human rights access: Bachelet [https://www.ohchr.org/EN/NewsEvents/Pages/DisplayNews.aspx?NewsID=26838&LangID=E]).
All these calls by credible international organisations have gone unanswered by the Ethiopian government, and it was astounding to hear the Ethiopian ambassador instead call for support to rebuild the region his country has destroyed – that is, appealing for international assistance to help Ethiopia clean up its own mess. What about the atrocities committed against the people of Tigray, including mass killings, rape and destruction of property?
These rampant and blatant human rights violations must be strongly condemned, and the perpetrators brought to justice in line with international humanitarian law that requires all parties involved in conflict to protect civilians, including women, children, refugees and internally displaced people (IDPs).
What is particularly flabbergasting is the fact that a prime minister could invite another nation to invade his own country, kill his own people and allow women to be raped. The war that started on November 4, 2020 was an opportunistic conflict started to coincide with the US elections.
However, the gamble backfired spectacularly as the new US administration has shown a clear stand in siding with the international community through the UN to stop the senseless bloodletting in Tigray. The Ethiopian government must bear responsibility, and Prime Minister Abiy Ahmed should be charged with war crimes.
The Ethiopian ambassador to Tanzania should have been summoned by Tanzania's Foreign ministry to explain the massacres in his country instead of addressing a news conference and asking for foreign assistance. Tanzania's foreign policy is built on a strong foundation of justice and non-discrimination.
I had expected The Citizen, like any other reputable newspaper, to call on the international community to take urgent steps to halt further atrocities in Tigray in line with our collective responsibility to protect the people of that region. The Intergovernmental Authority on Development, the African Union and the United Nations must act now to protect civilians in Tigray, and work with domestic stakeholders to find a lasting solution to the conflict.
It is time the African Union and the UN redoubled efforts to ensure that Eritrean forces leave Tigray as soon as possible; an independent investigation is conducted by the UN, and the people of Tigray are given the liberty to decide on their future. It is time reputable newspapers such as The Citizen reported responsibly, and side with the oppressed. As Che Guevara once said, "If you tremble with indignation at every injustice, then you are a comrade of mine."