Prime
Finland and Tanzania can work together to create success stories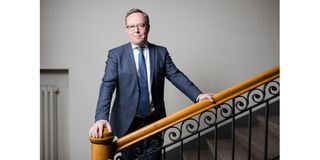 Summary
The cooperation aims at jointly developing new innovative ways to tackle climate change, to enhance pedagogical skills of teachers as well as to create jobs and livelihoods
Finland is known for its world-class technological innovations, effective education system and probably for many for being the happiest country in the world year after year. This has not always been the case. More than hundred years ago, Finland gained its independence from the Russian empire. We were one of the poorest countries in Europe, went through a bloody civil war soon after independence and two invasion attempts by the Soviet Union during the Second World War. What made Finland's development possible then?
There are at least two different factors that can account for the Finnish success story.
One is the strong focus on the education system. Finland has no major natural resources to rely on, except our abundant forests, so we realized that people are our best resource. Providing equal education to all the girls and boys, no matter how remote they lived, was one of the key goals since the early years of Finnish independence.
Education alone is not a silver bullet to development, but it makes many things possible. The technological advances, Nokia phones taking over the world for example, would not have been possible without a highly educated population. Today, digitalization is in our business DNA and we have developed advanced digital services across the government and society.
When it comes to education, Finland is already active in Tanzania on many levels. Finland is supporting the development of the technical and vocational education and training, with focus on forestry, and many institutions of higher learning are cooperating with their Tanzanian counterparts.
The cooperation aims at jointly developing new innovative ways to tackle climate change, to enhance pedagogical skills of teachers as well as to create jobs and livelihoods. 
Another key factor has been our belief in free trade and open markets. Today Finland is a keen member of European Union, the largest free trade area in the world. Finland has benefitted tremendously from the free flow of people, goods and capital through the European continent. Most importantly, Finland has benefitted from the free flow of ideas that the European integration has brought to us.
Finland has set out a goal of doubling its trade, not just exports, with the African continent by the year 2030.
Tanzania is one of the key partners to make this goal a reality. We strongly believe that the integration not only within the continents but also between different regions is a key to prosperity.
Formalising the trade relations in the form of European Partnership Agreements between regions or individual countries is one of the ways to do this.
Another prime example of economic cooperation is the EU-Tanzania Business Forum taking place in Dar es Salaam on February 23 and 24.
Finland has come a long way from its humble beginnings. We like to share our story and the lessons we have learned on the way. We do our best to become part of Tanzania's success story as well, through active dialogue and increased trade. Today's social challenges are complex – such as green and digital transformation – but they are also great opportunities.  That is why we need to scale up our international business collaboration and co-creation.