Adapting trade to climate change for competitive green growth in Tanzania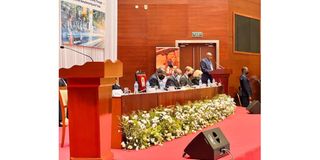 The current national five-year development plan 2021/22-2025/26 prioritizes the development of trade in the pursuit of Tanzania's mid-term development objectives of realizing competitiveness for industrialization and sustained human development.
The plan has set an operational target of increasing exports to 28 percent of GDP and the share of exports in world markets to 0.15 percent.
Yet, the realization of Tanzania's trade potential is currently circumscribed by concerns over climate change. Research suggests that climate change affects trade by disrupting distribution and supply chains and raising trade costs.
The effects of trade on climate need not all be negative. Indeed, recent studies have shown that trade can build value chains that lead to more efficient use of resources and access to effective low-carbon technologies.
Therefore, in the presence of sound environmental policies, lower barriers (e.g., by removing tariffs and non-tariff barriers on climate-friendly products and services), and well-functioning institutions, international trade can be a powerful climate change mitigation and adaptation.
The 26th annual research workshop
In response to increasing need for a diversified economy and competitive trade, at a time when various global institutions are intensifying efforts to reduce global warming and to mitigate and adapt to climate change, the REPOA will be organized in collaboration with CRDB Bank Plc, a leading Financial Services Provider in Tanzania with current presence in Tanzania and Burundi, East Africa and the Ministry of Trade and Industrial Development in Zanzibar are convening a two-day workshop.
This collaboration will provide an opportunity for CRDB to provoke and promote policy dialogue and contextualized research on the relationship between trade and climate change, climate-smart financing for agriculture, and their confluence in promoting a competitive and increasingly green economy. This will include:
• a closer look at both trade and climate change as potential levers for unlocking Tanzania's comparative advantages;
• global value chains and options for strategic linkages to enhance competitiveness in agriculture, industries, and other sectors;
• How financial institutions can promote climate sensitive production, distribution and trade policies.
While this is the first social and economic policy workshop on the intersection of climate change in production, trade, and climate-responsive finance, it is the second consecutive workshop that closely analyses trade as one of the main operational priorities of Tanzania's current five-year development plan 2021/22 – 2025/26, and at the same time informing the implementation of the National Climate Change Response Strategy (2021-2026) and the Nationally Determined Contribution (2021), including the practical example of the contribution of the private sector and financial institutions on this national agenda.
The workshop offers a timely review of its implementation and reminds all stakeholders to assess their contribution toward meeting the objectives of these national plans and strategies.
Along with the main theme of the workshop, the dialogue will be structured to include important elements that derive from trade-climate change and green, competitive economy nexus, which in themselves warrant special policy attention. These include:
Innovative trade policies are likely to inform the response package of Tanzania and other developing countries to climate change. One such recent innovation is the development of a green economy anchored on the sustainability of the environment, economy, and society.
With constrained global finances and the ongoing non fulfilment of the Copenhagen accord on climate financing (i.e., the channeling of US$ 100 billion a year to the developing world), innovations in policies that espouse trade and market opportunities remain one of the most realistic and discretionary measures that Tanzania and other developing countries can pursue to turn adversity to hope and real prospects.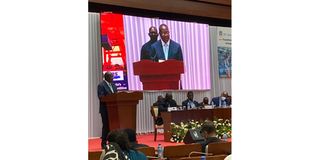 The difficulties in accessing climate finance have allowed extreme weather events to heighten the vulnerability of millions of people, putting food and water security at risk, and threatening productive sectors and supply chains.
While it would be necessary to strengthen Tanzania's access and management of international climate finance, a coordinated approach to mobilize climate change response action funding from the domestic financial institutions would be an innovative and highly desired response.
The international funds and financing windows such as the GEF, LCDF and GCF have set complex and highly technical procedural requirements that in absence of specialized guidance make it difficult for applicants in the developing world to meet and may not be designed to suit local contexts.
CRDB Bank Plc has, through its Tanzania Agriculture Climate Adaptation Technology Deployment Programme (TACATDP) however, managed to receive accreditation from the GCF, paving the way for the private sector-supported climate adaptation financing. While it is imperative that the lead role of CRDB Bank on the GCF facility is known to various development stakeholders, the Bank's leadership role should be expanded and well-supported policy-wise to enable the domestic financial institutions to provide targeted and cost-effective financing to the climate-friendly productivity and trade expansion.
Agriculture, the blue economy, and livestock dominate internal and external trade across Regional Economic Communities (RECs). Climate volatility may require these blocks, especially the EAC to re-examine their land, sea, and other natural resources and use frameworks with the view to designing new approaches to shared resources to facilitate the movement of livestock and fish stocks across national boundaries during periods of a climate shock.
This may allow peaceful and resourceful use of land and water resources given climatic variations between our countries. The frameworks may also help to keep food, fish, and livestock markets vibrant and promote peace and stability along critical natural resources corridors in the region (for example the Maasai Mara-Loliondo corridor and the Rwanda-Kagera pasture corridors).
The second aspect is the adaptation of the key Government Ministries and trade support institutions (TSIs) in support of climate-friendly productivity and trade expansion—the expansive horti, flori and api culture, the blue economy and forestry, and the key components of the other agro-exports and the inherent value chains. The key sector Ministries should package the requisite productivity and trade policies in support of climate-friendly sustained productivity growth and trade expansion.
The key TSIs, in particular the bureaux of standards—including the new ones in Zanzibar—should effectively support the producers and exporters in the key productive and export corridors (including the Zanzibar-Pemba productivity and export corridor) to effectively meet quality requirements demanded by the international markets.
Thus, this area will explore how an adaptative institutional ecosystem of a green economy can be sharpened and adequately linked to other key productive sectors to enable the realisation of gains from the horizontal and vertical integration of trade and production, and productivity and trade expansion.