AKU Tanzania cherishes his Highness' birthday by going beyond its calling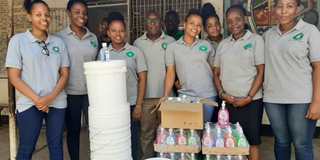 Summary
The University educates students for local and global leadership, generates new knowledge to solve problem people and raises standards and aspirations. 
Aga Khan University, Tanzania (AKU) is one amongst the Aga Khan Development Network (AKDN) agencies. 
The University educates students for local and global leadership, generates new knowledge to solve problem people and raises standards and aspirations. 
Established with a goal to improve quality of life in the developing world and beyond through world-class teaching, research and health-care delivery, AKU Tanzania transcends its traditional roles by embarking on multiple life-changing interventions.
Prior to commemorating the 84th birthday of his Highness', AKU Tanzania recalls some of its roles it has played in Tanzania today. "We appreciate the zeal for humanitarianism that his Highness possesses." 
As we celebrate his birthday we would like to highlight the humanitarian initiatives that AKU Tanzania through the three entities namely Medical College, East Africa (PGME, EA), School of Nursing and Midwifery, East Africa (SONAM, EA) and the Institute for Educational Development, East Africa (IED,EA) undertook during the Covid-19 pandemic.
There are a number of emergent response initiatives, which were carried out by the university where each entity played an impactful direct care in the hospital. SONAM faculty-built capacity of healthcare providers on frontline through short courses related to care during Covid-19 including direct care of patients, prevention and psychological support of the infected and the illness. IED, EA continued equipping teachers with skills on how to continue despite the pandemic," says Dr Nipael Mrutu, Faculty Institute for Educational Development, East Africa felt the need to give back to the community it serves not only through service but also through their generous support. 
They collected funds which aided in the purchase of wash stations; hand washing soaps and sanitizers. These items were then provided to Kiburugwa primary school in Mbagala which at the time had over 3000 students. 
She says, the humanitarian landscape is going through a challenging time as a result of COVID-19 calling for creativity and multi-di mensional responses if we are to tackle the challenges surrounding the provision of quality care and education. In this context the use of ICT and the traditional humanitarian model of communal solidarity cannot be ignored. Thus, the AKU community in Tanzania came together in solidarity to meet the most urgent needs resulting from the COVID-19 pandemic. 
Regardless of the uncertainties during this difficult time, AKU Tanzania through its IED, EA managed to join the communities in Lindi region, particularly the educational community through an intervention project named COVID-19 Emergence Rapid Response Intervention from June to December 2020, which involved empowering head teachers, teachers and parents with skills to help their children catch up with the time lost during closure of schools due to COVID-19 pandemic. 
More specifically, the intervention focused on empowering teachers with skills to accelerate learning so as to compensate the time lost, empower school leaders with skills to manage schools during emergence situations, as well as empower teachers, head teachers, and parents with strategies to mitigate the impact of gender and related issues caused by covid-19 pandemic circumstances. Through the intervention, AKU, IED EA in collaboration with teachers in Lindi, was able to design, print, and distribute curriculum materials to guide STD 1, 2, and 3 teachers through accelerated learning pedagogies – named as accelerated learning toolkits for STD 1, 2, and 3; design, develop and distribute head teachers' toolkits intended to help them with leadership skills during emergence situations, design educational posters to aid in gender based violence and in addition, conduct intensive training to both teachers and head teachers on how to use the toolkit to support accelerated learning in their institutions.
Through the 6-month intervention, more than 70 head teachers, 200 primary school teachers and 11500 students benefited from the project. In addition to dissemination of the learning materials and training of teachers, the intervention also involved empowering parents with skills to support their children with learning at home after reopening of schools, engaging social workers in supporting students with mental health after reopening of schools, and also sensitize communities about issues related to children protection and gender responsive care during and after pandemic. 
Despite the challenges presented by the pandemic - AKU Tanzania continued offering its service to students and the community in general. This included con-ducting several seminars to complement World Teachers Day with this year's theme being "Teachers: Leading in Crisis, Reimagining the Future." AKU Tanzania faculty worked with AKU students and alumni to plan and run informative series of webinars. Below is a list of areas that were covered. The webinars were open to the general public.
• Open discussions on re-opening of universities/schools between students and faculty;
• Counseling sessions on how to live with trauma;
• Discussions on experiences and knowledge about COVID -19 between faculty, staff, students, educators, health practitioners and other education and health stakeholders; and
• Psycho-social support and enhanced health-care.
On the commemoration day, a webinar series was conducted involving education stakeholders to discuss the challenges they are facing in their working environment and how to mitigate those challenges. Evidently teachers were commended and celebrated greatly. Due to the pandemic parents and communities recognized the significance and the crucial role teachers play. This is not only in educating children but also disciplining them by teaching them how to become responsible and accountable with their daily lives. 
Apart from the webinars AKU faculty wrote op-eds and reflective accounts, which were published in newspapers and journals, below is a list of op-eds which were published and are available online.
1. Teaching to support learning in times of crisis, by Dr. Nipael Mrutu, published on the Guardian on 6th May 2020, 
2. Dr. Pallangyo Eunice, Nakate Mary & Mai-na Rose & Fleming, Valerie. (2020). the impact of covid-19 on midwives' practice in Kenya, Uganda and Tanzania: A reflective account. Midwifery. 102775. 10.1016/j.midw.2020.102775.
3. Effective parental Involvement in home schooling during Covid-19, by Lucy Rweyemamu published on the Guardian on 21st April 2020.
"As we continue following his highness path of respect for people of all backgrounds and faiths, AKU, Tanzania continued maintaining and recruiting students, faculty and staff from all backgrounds and faith. 
"As we celebrate his highness birthday, it is important to acknowledge his efforts when it comes to matters of diversity and inclusion," added Dr Mrutu. 
The Aga Khan has worked tirelessly in matters of inclusion be it race, education, health, child protection among many others. The Prince understands that inclusion builds character; with character, stronger foundations are made and sustained. 
Through the banner of diversity and inclusion, His Highness, and the many working partners involved over the years, has been able to maintain the highest sense of integrity through the many institutions and foundations that have had a tremendous impact the world over, and specifically in developing countries like Tanzania. 
She further says that the notion of diversity pro-motes an inclusive environment which values equality of opportunity. By cultivation a culture of diversity, one encourages a variety of thoughts. Naturally, this gives birth to embracing new ideas and creating a culture that fosters innovation by valuing difference.
Through a variety is what his Highness has stood for over the many decades of his work. His keen sense of awareness and understanding of the needs of the poor, is what sets him apart from many individuals. Apart from all that, AKU include students of all faiths, allowing them to practice and celebrate their occasions. The entity accommodates cultural differences from among sub Saharan Africa and beyond –e.g. Tajikistan, Brazil and Pakistan. 
"We are making our interventions inclusive to all - certificate programs, special courses for faith communities and government institutions. AKU, Tanzania further learns from academicians across the globe as visiting faculty and event guests," says Dr Nipael Mrutu. Also, authors for publications are based on content and no other criteria. AKU provides scholarships that are for all.