CPA Damasco: NBAA, TRA awards made us want for more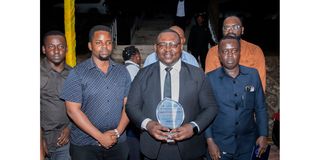 It is crystal clear that the Management and Development for Health (MDH) closed the year 2022 on a high note having collected double awards on two different occasions.
For the second year in a row, MDH scooped the National Board of Accountants and Auditors (NBAA) award as the second winner for the best presented financial statement.  This year, MDH has also won the Tanzania Revenue Authority (TRA) award as one of the best taxpayers in 2021/22.
It is a win by merit not by chance for the organization like MDH which had fully committed to and distinguished among others as tax laws—compliant and displayed excellence in financial report preparation.   
The milestone translates into the highest standards the firm has set and the top level it ought to play from now onwards.
One of the key secrets of such accomplishments, according to MDH's Director of Finance, CPA Damasco Peter is internal units and departments synergies and cooperation which offers an impetus for standing out.
"Without the cooperation of other departments, we would not have won these awards and represent MDH well. So, I thank the departments, units, management and our staff for the amazing support, dedication and hard work" said CPA Damasco.
Thresholds for winning those awards were fixed in such a way that necessitate the participant to demonstrate how it has impacted lives of people from the project beneficiaries, core organizational functions to staff and other indirect workers, on the grounds that for financial statements to be considered should they reflect with the positive results of the organization to the society and its staff as whole.
Impacting livelihoods is one of the crucial dockets mainstreamed into the multiple Government's strategic operational health instruments and plans, and MDH has ticked many boxes in that area, truth to be told.
CPA Damasco says that TRA awards signal the trust the Government, through TRA, has on MDH with its astounding records in tax compliance and it is a call for them to continue to comply to not breach agreement terms with their funders.
While with the unfinished hype for TRA prize, CPA Damasco has opened out on another note that the NBAA award is a huge boost for MDH's continued par excellence.
"As an organization, the NBAA award has helped us to increase the confidence of donors because MDH is an organization funded by various development stakeholders as I described above, many stakeholders want to work with organizations that are professional, transparent, responsible and are in compliance with rules and regulations of the donors in financial management and implementation of projects," says CPA Damasco.
Explaining the strategies of the institution to continue to do well in the awards, CPA Damasco says they will pick up from where they left off by ensuring that they continue to improve the principles of compliance with tax laws and prepare better financial reports through various technological systems.
On top of that, they will ensure that reports are prepared in accordance with all accounting standards as specified in the regulations that provide guidance on financial information for non-governmental organizations (The International Public Sector Accounting Standards, IPSASs).
"We will continue to set strategies to ensure that our staff, especially the accounting department, attend various training programmes organized by NBAA together with other stakeholders to ensure a correct understanding of the requirements for the preparation of financial statements but also to ensure that employees from other departments are empowered in preparing various financial reports."
CPA Damasco heaps praises on TRA and NBAA on the creativity of the awards, explaining that they serve as an impetus to various organizations to continue to ensure that they voluntarily adhere to the requirements of the country's laws as well as the preparation of financial statements.
In addition, the awards have been an important stage for various stakeholders to meet and exchange positive ideas about the development of our country as well as professionalism in the implementation of responsibilities.
"MDH is an institution with strong systems and leadership that adheres to the country's laws, so stakeholders or any institution aspiring to work with our organization are warmly welcome," hints CPA Damasco.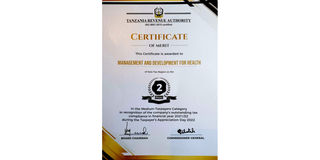 As the multi-award winning MDH can't improve lives of people alone around its priorities – health included as major aspect – it works in collaboration with the Government in implementing various health interventions through funding from various development stakeholders including the United States government through PEPFAR (CDC and USAID), the Global Fund to Fight AIDS, Tuberculosis and Malaria (Global Fund) and other stakeholders.
These interventions include prevention and treatment services for HIV/AIDS, Tuberculosis (TB), Malaria, maternal and newborn health and adolescents, non-communicable diseases, strengthening of laboratory systems, health information systems and others.
For the past 10 years, MDH has supported HIV/AIDS care and treatment services in Dar es Salaam, Kagera, Geita, Tabora, Pwani, Kigoma, Morogoro, Njombe, Iringa, Ruvuma, Mtwara and Lindi regions serving more than 750,000 People Living With HIV (PLHIV)
Further to that MDH has strengthened interventions to identify tuberculosis (TB) patients from the community, improving laboratory systems for the entire country, health information systems and improving health facility infrastructures.
Regarding the global economic crisis largely plagued by the outbreak of Covid-19 with most medical facilities left struggling with means of containing the pandemic, MDH was at forefront to back up local facilities in the fight as well as other epidemic diseases.
To support the Government to make right and informed decisions in healthcare service provision, the organization takes pride in successfully leading several high impact scientific studies. For example, MDH, in collaboration with the Government under the funding from CDC, has recently conducted a study to determine drug resistance in pregnant mothers living with HIV.
The study found that 56 percent of mothers with high viral load are resistant to the drugs they were using and may need to change drugs and monitor more closely the correct use of those drugs.
These study findings are expected to improve health service delivery for HIV infected pregnant mothers and inform policy and programs reforms regarding the prevention and treatment of HIV.