Johari Rotana: A new five-star hotel with more to offer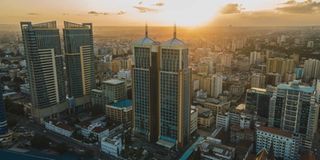 From the first sight what baffled you most? Is it the twin tower that dominates Dar es Salaam skyline when watching from other heights or its precious name? But there's more to becoming a five-star hotel than meets the eye!
Johari Rotana ticked all boxes of outward appearance to become five-star but it was working on required standard services that linger first in most people's minds when thinking about the hotel.
The complex part of the recount is how the landmark spent a short time of its presence in the country to incredibly earn that five-star top prestige. It is worth a standing ovation, isn't it?
The accreditation from the Ministry of Natural Resources and Tourism makes the hotel now the second five-star facility in the city. And this happens after meeting global hospitality standards and criteria set by awarding bodies from within and outside the country.
Designed to meet the needs of discerning modern travelers, this five-star hotel features 193 luxurious rooms and suites and 60 serviced apartments with stylish furnishings, smart in-room technology and a large meeting and event space including Almasi Ballroom, the largest hotel ballroom in Tanzania.
Whether you are taking a quick trip to Dar es Salaam or planning a longer stay in the city, Johari Rotana offers several types of rooms to suit your requirements.
Johari Rotana General Manager, Joerg Potreck admits that the recent ranking is an attribute both to the luxury amenities found within the hotel compound and the biggest attribute goes to the team.
"At Rotana, we are doing a lot of training for the team to fulfill expectations of clients and that team brings in a pleasant atmosphere at the building. If services are very lousy, you will quickly say that it is a nice hotel but not memorable and that's why we work harder to ensure our services exceed guests' expectations," says Mr Potreck.
Mr Potreck says that the hotel led in best services since its opening in 2019, ascribing the achievement to having the best team around, hard work and dedication.
"Rotana believes that if you have a happy team, you will have good services and we are doing a lot for our teams and that perfectly matches with the five-star hotel criteria," adds Mr Potreck, who emphasizes that having large facilities is not sufficient if services are still substandard.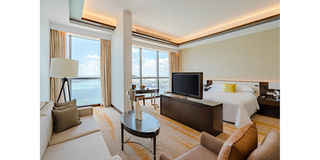 Keeping pace with game of expectations
Since the customers' expectations and perceptions are fast-changing, Rotana aims to stay ahead of the race to satisfy their needs, according to Johari's Rotana GM.
The GM also reveals that the hotel has put in place a reinventing model that pushes itself to the new limits and hence growth.
The model is critical for identifying new moods, demands, behaviors and preferences of customers around the facility and that should provide a green light for the counterpart to readjust while giving multiple customers options.
"Around the world, people like to make comparisons, so as a competitor, you have to stretch yourself out there. Look at Nairobi that has many five-star hotels when compared to Dar es Salaam and they all challenge one other to become better," he says.
Mr Potreck considers Johari Rotana's presence in Dar Es Salaam as a game changer that has raised the hospitality standards in the city.
Why not located outside Dar es Salaam?
Mr Potreck says that Rotana is a management company that has massively invested in the hospitality sector in Africa, in Tanzania, their target clientele are corporate and MICE guests so it made sense for the hotel to be situated in the country's business hub Dar Es Salaam.
The owner's strategic business location doesn't shrug off the idea that the hotel is on the lookout for hospitality investors with plans to install new resorts or hotels particularly in the country's capital of Dodoma to operate on behalf of them through Rotana's brand.
Rotana recently launched a new brand 'Edge' which allows an opportunity for existing hotels to operate with it's systems and expertise.
The secret behind the five-star ranking
There are a number of factors to be considered before being ranked as a five-star hotel and this includes but not limited to; 24-hour room services, 24-hour service delivery, types of restaurants, local and international dishes, room standards from size to their amenities, facilities for people with disabilities, comprehensive assurance, and fire and other risks compliance, OSHA and local content.
Ticking all the boxes to receive the credentials is one part, fulfilling the guests' expectations especially in providing true 5-star services is another thing.
"Hotel business is a game of perceptions and I know it is hard work, I'm over 40 years in the hospitality sector with a lot of international experiences. I have been in many countries," says the GM, who admits that the the hotel's management team is comprised of a healthy balance of local experts in their fields and expatriates to create a diverse team of talents.
He sticks to his powerful weapons of combined hard work, team and innovation to help the business stay afloat. To get things done, you need to form synergies.
"Hotel business is a tough business because you need to you have to always put your best foot forward to get the approval of the customer, therefore, if you choose to stay back and relax, it is not happening," he hints.
For his part, Johari Rotana Tanzania's Environmental, Health & Safety Manager, Mr Edward Iluhya, says that they are super excited to reach that pinnacle of their work.
"Our new ranking is not only known by our Ministry of Natural Resources and Tourism but it crosses the border to the East African region having matched its regional and International hospitality standards," explains Iluyha.
Mr Iluyha says that the five-star ranking is a bar they have created and now they have to safeguard the prestigious position with more improved service.
Rotana Hotel Management Corporation (Rotana) was founded in 1992, by a partnership between two visionary Pioneers, Nasser Al Nowais and Selim El Zyr.
Operating as Rotana, it opened its first property, the Beach Rotana Abu Dhabi in 1993 and is today one of the leading hotel management companies within the Middle East, Africa, Eastern Europe and Türkiye.
Rotana combines a unique understanding of the culture and communities of the Middle East with the collective expertise of an executive team contributing to years of international experience in the service industry.