Principles Drive Sound Development of China-Tanzania and China-Africa Relations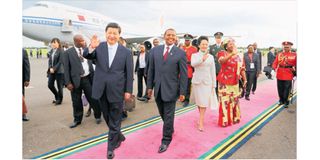 In March 2013, Chinese President Xi Jinping came to Africa during his first overseas trip after assuming presidency, and Tanzania was his first stop in Africa. During that visit, President Xi was warmly welcomed and received by the then Tanzanian President Jakaya Mrisho Kikwete and the Tanzanian government and people. At the Julius Nyerere Inter­national Convention Center, a grand building constructed with Chinese assistance, President Xi delivered a keynote speech titled "Be Trust­worthy Friends and Sincere Partners Forever." In that speech, he reviewed and summarized the glorious histo­ry and valuable experience of Chi­na-Africa relations with deep feeling, and on that basis, he proposed the principles of sincerity, real results, amity, and good faith, and of pur­suing the greater good and shared interests.
Firstly, the principles of sincerity, real results, amity, and good faith, and of pursuing the greater good and shared interests represent the glorious tradition and the charac­teristics of China's diplomacy, and they are important part of the Xi Jinping Thought on Diplomacy.
Strengthening solidarity and cooperation with African countries has always been a cornerstone and a strategic choice of China's diplo­macy. After taking office, President Xi Jinping has thought deeply of the question 'how to carry on China-Af­rica friendship, promote the develop­ment of China-Africa relations, and advance China-Africa cooperation in the new era'. During his visit to Tan­zania, he gave a resounding answer - uphold the principles of sincerity, real results, amity, and good faith, and of pursuing the greater good and shared interests, and jointly realize the 'Chinese dream' of national reju­venation and the 'African dream' of unity and development.
The essence of these principles is to adhere to the fine traditions of true friendship, pragmatic cooper­ation, close bond of friendship, and being frank and honest to each oth­er. We uphold a sense of righteous­ness and make it a priority in our cooperation with Africa. We support Africa's development with our own development, and ultimately achieve mutual benefit and common devel­opment. This concept summarizes the characteristics of China's policies towards Africa, meets the needs of strengthening unity and cooperation between China and Africa in the new era, reflects China's clear positioning as one of the developing countries, and demonstrates China's solemn commitment to being a sincere friend and close partner of African countries. It has been widely com­mended by the African countries and the international community.
In the past 10 years, the meaning of these principles has been contin­uously enriched, its status enhanced, and its advanced nature demon­strated. These principles, initiated in Africa, have become the basic policy guiding China's solidarity and coop­eration with developing countries, making China-Africa relationship a model in China's relations with developing countries. These prin­ciples have also set a benchmark for international cooperation with Africa and made important contri­butions to promoting greater input in Africa by the international com­munity and the establishment of a more equal and mutually beneficial partnership between Africa and oth­er countries.
Secondly, the principles of sincer­ity, real results, amity, and good faith, and of pursuing the greater good and shared interests are the common spirit and values of China and Africa, leading to continuous achievements in China-Africa coop­eration.
Over the past decade, under the guidance of these principles, Chi­nese and African leaders have jointly promoted the China-Africa coop­eration, and achieved leap-forward development with a series of impor­tant progress. China-Africa relations have entered a new era of building a high-level China-Africa community with a shared future.
President Xi Jinping attaches great importance to China-Africa relations. Over the past decade, he has visited Africa four times, trav­eling across the eastern, western, southern, and central regions of the continent. President Xi attended the opening ceremony of two summits and one ministerial conference of the Forum on China-Africa Cooperation (FOCAC) and met with more than 50 African leaders during the FOCAC Beijing Summit in 2018 one by one. Through frequent communications and sincere dialogues, President Xi has established deep friendship and trust with African leaders, leading China-Africa relations on a steady and far-reaching path.
This year also marks the 10th anni­versary of the Belt and Road Initia­tive (BRI). Over the past 10 years, the China-Africa cooperation and the BRI have achieved fruitful results. In 2022, the trade volume between Chi­na and Africa reached 282 billion U.S. dollars, up by 11.1% year-on-year, and China has been Africa's largest trad­ing partner for 14 consecutive years. At present, Chinese enterprises have made cumulative direct investments of nearly 50 billion U.S. dollars in Africa, more than three times that of the end of 2012. Up to now, 52 Afri­can countries and the African Union Commission have signed the Belt and Road cooperation documents with China, and cooperation pro­jects in such fields as roads, electric­ity, telecommunications, and ports are spread all over Africa.
These 10 years have also been a decade for China and Africa to prac­tice true multilateralism, and jointly uphold international fairness and justice. In the face of increasing glob­al security and development chal­lenges, hegemonism, unilateralism, and protectionism, China and Africa have upheld the spirit of solidarity and cooperation, helped each oth­er, and firmly supported each other on issues involving core interests and major concerns of either side. They have jointly safeguarded the common interests of developing nations, and promoted fairer and more equitable global governance. China was the first to support the African Union's accession into the Group of Twenty, and supports Afri­can countries in increasing their say and representation on the interna­tional stage.
Thirdly, the principles of sincerity, real results, amity, and good faith, and of pursuing the greater good and shared interests are reflect­ed in all aspects of China-Tanzania cooperation, giving impetus to the development of bilateral relations.
Tanzania is an important coun­try in Africa and plays an important role in China's relations with Africa. Ten years ago, Tanzania was the first African country visited by President Xi Jinping after he took office. In November last year, Tanzanian Pres­ident Samia Suluhu Hassan visited China at the invitation of President Xi Jinping, becoming the first Afri­can head of state received by China after the 20th National Congress of the Communist Party of China. This fully reflects the exemplary role of China-Tanzania relations in Chi­na-Africa relations and South-South cooperation.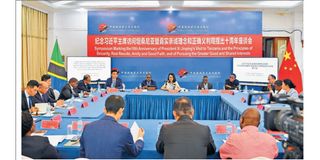 Ten years ago, during his visit, President Xi Jinping and President Jakaya Kikwete jointly announced the establishment of a comprehen­sive partnership of mutual benefit and win-win cooperation between China and Tanzania. Last year, Presi­dent Xi Jinping and President Samia Suluhu Hassan agreed to upgrade the bilateral relationship to a compre­hensive strategic cooperative part­nership. China-Tanzania relations have achieved a great leap forward, with continuous expansion of coop­eration areas, enhanced communi­cation levels, and broader prospects.
Despite the impacts of the COV­ID-19 pandemic and weak global economic recovery, China-Tanzania pragmatic cooperation has main­tained growth momentum over the past decade. China has remained Tanzania's largest trading partner and largest source of foreign invest­ment for many years. In 2022, the trade volume between China and Tanzania increased by 23.7% year-on-year, reaching 8.31 billion U.S. dollars, which was 3.5 times that of 2012. A batch of featured Tanzani­an agricultural produce such as soy­beans, avocado have been export­ed to China. The state-of-the-art Library of the University of Dar es Salaam, the Office Building of Tan­zania's Ministry of Foreign Affairs and East African Cooperation in Dar es Salaam, the new building of the National Defence College, and the Kagera Vocational Training and Ser­vice Centre, built with Chinese assis­tance, have all been completed and put into use. These buildings have become the new landmarks of Chi­na-Tanzania cooperation.
Major projects undertaken by the Chinese companies, such as the con­struction of the fifth and sixth sec­tions of the Standard Gauge Railway, the Julius Nyerere Hydropower Sta­tion, the Dar es Salaam port expan­sion, and the national ICT backbone network of Tanzania have progressed steadily. Chinese-invested projects, such as the Jiangsu-Shinyanga Agri­cultural Industrial Park and Maweni Limestone Ltd., have successive­ly started operation, injecting new impetus into Tanzania's industriali­zation drive.
No matter how the international situation changes and no matter how far China advances, China will firm­ly uphold the principles of sincerity, real results, amity, and good faith, and of pursuing the greater good and shared interests, advocate and implement the Global Development Initiative, Global Security Initiative, and Global Civilization Initiative. China will remain committed to enhancing solidarity and coopera­tion with African countries, and con­tinue to promote mutual learning, win-win cooperation and common development with Africa, aiming at building a high-level China-Africa community with a shared future.
I believe that under the guidance of the principles of sincerity, real results, amity, and good faith, and of pursuing the greater good and shared interests, China-Tanzania and China-Africa relations will have a bright future and bring greater ben­efits to the people on both sides.
(The writer is the Chinese