Tanzania, China sign 15 agreements after Samia visit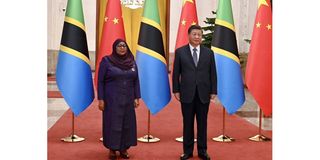 What you need to know:
China is a leading source of Foreign Direct Investment (FDI) into Tanzania, accounting for 1,098 investment projects by October 2022, worth $9.6 billion which have created 131,718 jobs.
Dar es Salaam. Tanzania and China yesterday signed 15 agreements to improve bilateral trade relations, transport and grow the market for agricultural  produce.
The agreements were signed as part of the agendas during the three-day visit of President Samia Suluhu Hassan in the second world largest economy.
The signing covered avocado transportation, expansion of Zanzibar airport and financial assistance worth 100 million yuan (Sh31.85 billion) among others, the State House spokesperson Zuhura Yunus said.
"The government of China has agreed to provide a loan worth $56.72 million (Sh130.45 billion) for expansion of the Zanzibar International Airport. "This is a great achievement considering the fact that President Hassan is the first top leader to be invited by President Xi Jinping since the outbreak of Covid-19 and his recent approval by the CPC congress to be the leader for the third term," she said.

President Hassan, who started the official visit on Wednesday, met China's Prime Minister Li Keqiang and the country's Speaker of the Parliament Li Zhansu before having official talks with President Xi Xinping.
The two leaders witnessed the signing ceremony of the agreements which seek to strengthen bilateral cooperation in different areas.
After the official talks, the two leaders agreed to maintain the momentum of high level dialogue and strengthen collaboration at all levels.
The sides will also increase bilateral trade and economic cooperation. They will also deepen high quality collaboration under the framework of the Belt and Road initiative to develop infrastructure projects.
The two leaders promised increased cooperation in areas of processing and manufacturing, green development and the digital economy.
China and Tanzania, which have a long historical relation, also promised to strengthen cooperation in global issues such as climate change and economic use of the sea.
China is a leading source of Foreign Direct Investment (FDI) into Tanzania, accounting for 1,098 investment projects by October 2022, worth $9.6 billion which have created 131,718 jobs.
President Hassan becomes the first African leader to visit China after the congress of the Chinese Communist Party re-elected Xi Jinping as its General Secretary for another five-year term.
This, analysts say, explains the strong history of cooperation between the two nations, with China looking at Tanzania as its gateway to Africa.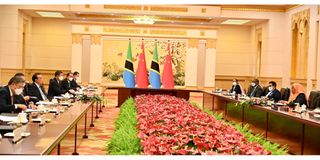 Interestingly, Tanzania was Xi's first point of call for Africa as soon as he became Chinese presidency in 2003.
President Xi arrived in Dar es Salaam on March 24, 2013, where he, among other issues, held talks with the then Tanzania President Jakaya Kikwete.
Data produced by Tanzania's Ambassador to China, Mbelwa Kairuki, show that China is the number one contractor in Tanzania.
"In the last three years, projects worth $8.5 billion have been implemented by Chinese enterprises in Tanzania. In the area of transport, we have seen direct flights from Guangdong, Guangzhou to Dar es Salaam," he said, exuding optimism that in the near future, there could be a big number of Tanzanian businessmen, students and tourists coming to China.
After signing an agreement for Tanzania to export soybean to china, Ambassador Kairuki said the number of regions growing the product has risen to 10 as the East African nation seeks to raise the value of its exports to China from around $600 million in 2020 to $1 billion in 2025.
The signed agreement, he said, opens more Chinese markets to products from Tanzania.