Why do you need to take Tanzanian pulses more seriously?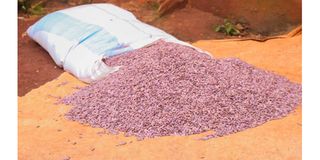 Tanzania has a set of five pulses that are commercially produced, namely; dry beans, chickpeas, pigeon peas, green grams, and cowpeas, which are produced in different regions like Manyara, Kagera, Kigoma, Mbeya, Mtwara, Dodoma, Njombe, Singida, and Mwanza. Other pulses cultivated in the country albeit in small quantities are; Bambara nuts and dry peas.
Tanzania's pulses production and trade performance is not a mean feat, something we can deservedly be proud of. Our annual production is currently around 2 million tons, of which dry beans take the biggest share as 1.21 million tons are produced, followed by pigeon peas (around 250,000 tons), chickpeas (180,000 tons), green grams (80,000 tons), cowpeas (174,260 tons) and bambara beans (52,239 tons).
This makes Tanzania number one (1) in dry beans production in Africa. Continental second (2nd) in pulses production and tenth (10th) in the world.
In 2021, our annual exports of pulses were more than US$ 269 million – topping the list of all pulses exporting countries in Africa. This was more than the export values of coffee, tea, and tobacco, which are getting excessive attention and touted as cash crops by the Government of Tanzania. More so, they performed better than horticultural products and spices. Interestingly, the value of pulses exports was larger than Tanzanite (US$ 100 million), Diamond ($8.5 million), and other precious metals exported in the year 2021.
Well, the beauty of all this is not only in pulses bringing in more forex than other mentioned cash crops and minerals but in the fact that pulses come with economic justice. About 95 percent of farmers producing pulses in Tanzania are small-scale farmers, who cultivate on less than 5 acres of land.
Pulses have proven beyond any reasonable doubt that they can defy climate change woes, lower costs of production and give the best any producer can expect. But there again we have got to seriously fund the sub-sector.
Zirack Andrew –Pulse Network Tanzania