'Sovereignty alone won't solve Zanzibar economic woes'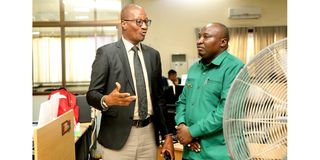 Summary
Secessionists have voiced demands for Zanzibar's full autonomy saying it will increase the Island's access to international finance
Dar es Salaam. The ruling party in Zanzibar on Monday , MArch 13, responded to growing demands for full autonomy in the Islands, saying sovereignty doesn't guarantee economic strength.

Instead, CCM has advised Zanzibaris to work hard, pay taxes, and develop discipline in their financial expenditures. The party also clarified claims that it is wrongly using the Zanzibar Social Security Fund (ZSSF) money for implementation of its projects.
"We are against anything that will end up breaking the Union. Our founding fathers had a strong vision when they united the two countries in 1964," CCM Zanzibar's secretary of Ideology and Publicity, Mr Khamis Mbeto Khamis, told MCL journalists when he visited the Mwananchi Communications Limited (MCL) headquarters at Tabata Relini in Dar es Salaam.

Mr Khamis said there are many countries with their sovereignty intact, but they haven't made great strides in economic development.

Mr Khamis noted that the most contentious issues in the Union have been resolved through the instruments and procedures put in place by the founding fathers.

"In financial matters, procedures require that the Zanzibar and Union governments provide their requirements, and after that, Zanzibar is given its share once a loan has been secured," he said.
"These demands [for full autonomy] shouldn't deceive us. We are only required to work hard, build the economy, pay taxes, and have financial discipline," he added.

Regarding the ZSSF, Mr Khamis refuted claims that it is being used to fund CCM projects despite having no party employee making a contribution to the fund.

"It is not true that CCM workers are not members of the ZSSF. They are, including myself. However, all over the world, social security funds operate and exist by investing in various business activities," he said.

"Through these investments, they significantly contribute to the development of their respective countries. CCM has entered into a contract with ZSSF to facilitate this mission, whereby the ruling party provides land and gets its shares like any other landlord," he added.
Recently, secessionists and some opposition politicians voiced demands for Zanzibar's full autonomy, claiming that it was the only way for the Island to unlock its access to international finance in terms of loans and grants from multilateral financial institutions.

Welcoming Mr Khamis, MCL managing director Bakari Machumu described products and services offered by the company, saying the company has started offering training on data journalism to the government's public relations officers.

"They are trained on the use of infographics for effective and efficient communication as well as messaging. We have decided to share something small we can do through our experts to simplify communication," he said.