Constitutional reforms: A chance for Zanzibar to defend 'its rights'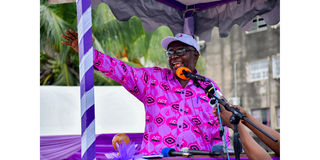 Unguja. Opposition party ACT-Wazalendo said yesterday that the expected constitutional reforms in Tanzania presents a unique opportunity for the Zanzibaris to 'claim what is theirs' within the union.
Speaking at a rally at their first rally in Kikwajuni, Michenzani, ACT Wazalendo's national chairman, Juma Haji Duni, said 2014 was a lost opportunity, and they feel they were betrayed by fellow Zanzibaris in Dodoma who sided with what their party had ordered them.
"We had agreed to go to Dodoma and speak on behalf of the Zanzibaris regarding how they would like to be governed; however, our friends from CCM betrayed us once we arrived at the constitutional assembly, and as a result, even those who tried to defend our position were expelled," he said.
He said as a result, they came back empty handed, and the dream opportunity of rectifying some of the issues that are in the union certificate was never realized.
"It cannot be a party issue when it comes to defending Zanzibar. We may have our differences within Zanzibar, but when it comes to defending our rights outside the country, we have to work as a unit," added Mr. Duni.
Mr. Duni further shed light on the recent meeting with President Mwinyi, saying they had agreed on issues and how the committee that is set to be formed by the President will bring about lasting peace on the islands.
"The committee will shine light on the future of Zanzibar so that we go into the 2025 election as a peaceful nation that shares a common aspiration for the generations to come," said Duni, who was Edward Lowassa's running mate in the 2015 polls on the Ukawa ticket.
He further rubbished the claims that their vision of 'one Zanzibar with full sovereignty' aims at breaking the union, saying that Zanzibar is a country and therefore its citizens should be governed the way they desire.
Speaking earlier, the party's vice chairman and first vice president, Othman Massoud, said that by building the new Zanzibar with full sovereignty, they are fulfilling the ACT vision because the current Zanzibar is not viable.
"We believe that all Zanzibaris are equal because this country is a republic and not a monarch; therefore, there is no room for segregation. We are building the foundation of what we want to achieve as a nation together," said Mr. Masoud.
He added that they have been patient for a long time and that they have done everything to make sure they stick to the rule of law.
According to the itinerary, the party is set to hold 12 rallies in both Pemba and Unguja in the next two months, where they will expound on some of the issues that they believe are shrouded in secrecy.
The party's publicity secretary, Salim Bimani, said some of the issues that they believe need serious answers include the contracting of a foreign company to run the Malindi Port and the reconstruction of the Amani Stadium.