Mwinyi: I will act over squabbling appointees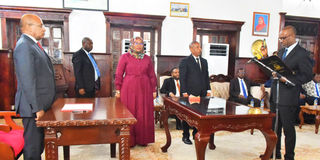 What you need to know:
Dr Mwinyi made the observation during the swearing-in of newly appointed regional and district commissioners at the Zanzibar State House yesterday.
Unguja. Zanzibar President Hussen Ali Mwinyi has expressed discomfort over the growing habit of squabbling among his appointees, warning that he would take stern measures whenever necessary.
"Every day we hear about quarrelling between a minister and a permanent secretary, a minister and directors, or the permanent secretary and directors, or a regional commissioner on bad terms with a district commissioner. Likewise, the district commissioner isn't on good terms with a District Administrative Secretary (DAS). How will the job be done?" he questioned.
Dr Mwinyi made the observation during the swearing-in of newly appointed regional and district commissioners at the Zanzibar State House yesterday.
He spoke about key accountability issues, warning that the ongoing internal strife among appointees adversely affects the execution of duties.
"You are there to cooperate and to get the jobs done. The people you are supposed to cooperate with are my appointees, not yours; that's why I'm not consulting anybody during their appointment," he said.
President Mwinyi said employees who don't agree on certain issues should politely and peacefully accept the differences instead of frustrating duties aimed at benefiting citizens.
He also hinted at the dispute involving parliamentarians and representatives of the Zanzibar House of Representatives on one side and directors, district commissioners, and executives on the other side.
"My position to all government executives is that people who cannot cooperate with others in the execution of duties have automatically been disqualified to serve in my government," he said.
He said district commissioners have the mandate to strengthen peace and security in their jurisdictions, wondering about the incidents of theft that have been reported in Unguja North and Unguja South despite the presence of presidential representatives.
"Incidents that undermine peace in those areas have been reported despite the rapid growth in tourism attractions in those areas, including Nungwi and Paje. This is despite the fact that these areas have appointed district commissioners," he said.
He expressed dissatisfaction that no operations have been launched in those areas. He directed that those vices should be dealt with accordingly.
He said failure to address grievances facing citizens has led to the influx of complaints at the State House, mostly involving land in which some government leaders have been implicated.
President Mwinyi called on regional and district commissioners to ensure justice is dispensed to all citizens, urging them to distance themselves from violations of people's rights.
He said challenges facing tourists should be addressed with special priorities, reminding them that one-third of the Isles revenues come from the sector.
He called on executives to improve the supervision of their councils, insisting that entrepreneurship and environmental issues should be given top priority.
The newly appointed leaders told The Citizen after taking oaths of office that they were going to work on the president's directives in order to bring about anticipated changes.
"My first priority will be to strengthen peace, equality, and justice for everybody who deserves it," said South Unguja District Commissioner Galos Nyimbo.
Regional commissioners who took oaths of office and their respective work stations in brackets are: Ayoub Mohammed Mahmoud (Unguja South) and Rashid Hadid Rashid (North Unguja).
District commissioners are: Sadifa Juma Khamis (Central); Othman Ali Maulid (North A) and Galos Nyimbo (South Unguja).