Programme gives Zanzibar's needy youth a second chance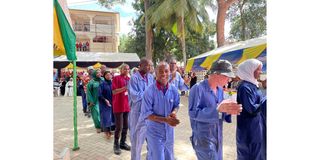 Summary
The programme is designed to give the apprentices the skills to become formally employed or self-employed in order to help curb Zanzibar's rising youth unemployment rate currently standing at 33 per cent
Zanzibar. On 02 November 2022, the International Labour Organisation (ILO) in collaboration with the Revolutionary Government of Zanzibar and social partners celebrated Zanzibar's NEET (youth not in employment, education or training) modular apprenticeship programme certificate award ceremony.
The event was graced by guest of honour Hon Mudrick Soraga; Minister of State, President's Office; Labour, Economic Affairs and Investment who thanked the ILO and the government of Norway for supporting the programme which is in its second phase.
Mr, Soraga congratulated the 90 graduates and urged them to utilise the skills and qualifications they have gained through the six-month programme to improve their lives and be a positive example for other young people in their communities.
The graduates also received special equipment and tool kits to begin their new lives as professionals in their fields of; air conditioning and refrigeration, carpentry as well as tailoring.
The programme is designed to give the apprentices the skills to become formally employed or self-employed in order to help curb Zanzibar's rising youth unemployment rate, which is currently 33 per cent according to the Integrated Labour Force Survey 2020/21.
Mr Soraga assured the young graduates that the government of Zanzibar is committed to helping the youth to access better self/employment opportunities:
"We have heard your suggestions and requests for more financial support. Young people can now apply for various government financial support and loans to start their own businesses. I urge you to make good use of this service."
NEET programme graduate and youth representative, Mlinde Machano, reflected on the many challenges facing Zanzibar's youth and the opportunities for a better future that he and his peers now have:
"As we have demonstrated during the plays and stories we have shared today, many of us young people fall into drug abuse and end up living in poverty because we have no education of skills. This programme has given many of us the chance to improve our lives…we would like to sincerely thank our government, the ILO and the government of Norway for the NEET programme."
ILO Programme and Operations Officer, Mr Adame Traore on behalf of ILO Country Director, Mr, Wellington Chibebe thanked the government of Zanzibar for the successful conclusion of the programme's second phase and shared ILO's commitment to ensure the sustainability of the programmes' impact.
"The ILO strongly encourages the Revolutionary Government of Zanzibar, through the President's Office, Labour, Economic Affairs and Investment, Social Partners and other stakeholders to continue implementing skills development programmes beyond the end of the ILO project. ILO technical support remains available if there is a wish to replicate and/or expand the NEET programme."
Hamza Kassim, sits at the back of a bustling workroom at the KVZ Volunteers Brigade Zanzibar, he is cutting up black leather pieces and sewing them with the dexterity and speed of an expert leather worker.
Hamza is a 20-year-old short-term apprentice who began his training as a tailor less than six months ago. Hamza is also physically impaired and was born with a severe congenital hand deformity which made his early childhood particularly difficult.
Learning however was never a problem for Hamza: "I taught myself to do things that others could do very easily by practicing and practicing until I got it right. I was not the best but I liked school…I was good at History and Kiswahili, and was lucky to have good classmates and teachers when I was younger. Going back home was more difficult as the children on the streets would point at me and make cruel remarks about my hands."
Hamza is the seventh of ten children; therefore, his parents had to prioritise the education of his younger siblings when he failed his secondary school final exams. Hamza recalls this difficult time saying; "I was so depressed! I stayed up most nights just thinking about the money I needed to start a business. My father is a farmer and my mother sells snacks at a school… we do not have money to start a business."
It was during this time that Hamza received a phone call from a youth representative at the Prime Minister's Office for Labour, Employment, Youth and Persons with Disabilities (PMO-LYED), who told him about a short-term apprenticeship programme run by the ministry with the International Labour Organisation (ILO).
Hamza was ecstatic about the opportunity. "I am not the only one with a disability in my family, there are three of us…I didn't know that my older brother had registered us at the ministry as physically disabled and that is how the youth representative was able to call me directly and urge me to apply."
Hamza was one of 90 young people accepted into the second phase of the programme in April 2022.
The programme aims to train youth between 15 and 25 years who are not in employment, education or training (NEET). The apprentices spend four months in theoretical and practical training at the JKU Vocational Training Centre in Zanzibar and two months in some of Zanzibar's leading public and private industries. Hamza is spending his industry attachment at the KVZ - Volunteers Brigade Zanzibar, where he is learning leather production as part of his tailoring training.
"I had never used a sewing machine before and I had to work harder than everyone else to learn. I now can sew a variety of women's and men's clothing and make leather items like shoes and bags," Hamza proudly reports.
After graduating, Hamza received a nationally recognised certificate of competency as a tailor and a sewing machine kit to help him begin his work. He also stands a chance to benefit from government loans aimed to help young entrepreneurs.
Hamza is eager to begin his life as a professional tailor: "I am looking forward to starting my own business... I want to be able to earn an income and help support my parents. It is difficult for young people like myself, especially those with disabilities to earn a steady income, but registering in any youth or disability groups and support schemes is a great help. I don't think I would have this opportunity if my brother had not registered me at the ministry."
The short-term apprenticeship programme is implemented by the government of Zanzibar with technical support from the ILO Skills programme, which is funded by the Norwegian Agency for Development Cooperation (NORAD).
Apprenticeship programmes
Apprenticeships are probably the oldest public-private partnership in history and have been around for centuries. Formal apprenticeship is a form of vocational education/training which combines on the job training and institution based learning for specifically defined competencies and work processes.
Apprenticeships form part of the solution to help get young people into the labour market by equipping them with technical and core skills needed to take on new jobs.