Government intent on ending land row between Rahco, SBL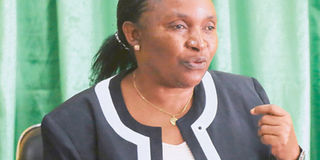 What you need to know:
The government believes that the land dispute involving Railway Holding Company (Rahco) and Serengeti Breweries (SBL) will be settled amicably.

The two organizations have been on a dispute since 2017 when Rahco marked over 90 houses at Pasua area -- including the SBL depot -- for demolition because they have been constructed in the railway reserve.

Moshi.The deputy minister for Industries and Trade, Stella Manyanya, has reassured the Serengeti Breweries investors that an amicable solution will be found to a land problem pitying it with the railways authority.
A depot in Moshi's SBL plant was marked for demolition in 2017 to pave way for the construction of a new rail line.
But Ms Manyanya who visited the site yesterday, accompanied by members of the parliamentary committee on Trade, Industries and Environment, insisted on the importance of protecting investors and said she was sure that "wisdom would prevail" in resolving the dispute.
"This is a strategic investment. Serengeti Breweries Limited pay a lot of tax to the government. But again this country has ample land. We, officials from various responsible ministries are going to meet to find solution to the problem. And I am sure wisdom will prevail," Ms Manyanya said.
Ms Manyanya added; "SBL is a serious investor. I want to allay fears because the government is ready to consider the wider interests of the country in the context of the significant contribution made by investors."
The chairman of the parliamentary committee for Industries, Trade and Environment Suleiman Sadiq (Mvomero - CCM) said the dispute should be resolved immediately because it involved foreign investors. The dispute was between SBL and Rahco, which has since been merged with TRL to form TRC. In addition to the SBL's depot 90 other houses in the Pasua area were marked for demolition in 2017 for being built on the rail reserve.
However, the owners of the houses claim that they did not invade the area, disclosing that the Moshi Municipal Council allocated the plots to them between 2005 and 2010 after the municipality changed the land use plan.
They claimed further that the process of changing the use of the land, which was in 1960s earmarked for industrial use, was blessed by the ministry of Land.