How 15pc deductions helped HESLB double loan recovery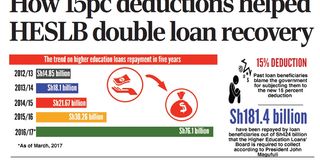 What you need to know:
While HESLB is increasing its loan recovery coffers, past beneficiaries are now feeling the pinch of the new 15 per cent deduction law as they struggle to make ends meet
Dar es Salaam. Top officials of the Higher Education Students Loans (HESLB) may now heave a sigh of relief as loan repayments double within nine months thanks to a 15pc increase in deductions and President John Magufuli's tough stance on loan recovery.
While HESLB is filling up its loan recovery coffers, past beneficiaries are feeling the pinch of the new 15 per cent deduction law as they struggle to make ends meet.
In early November last year, the Parliament passed amendments on the HESLB Act of 2004 that requires employers to deduct the 15pc from loan beneficiaries' gross salaries up from the previous eight per cent.
An analysis of HESLB's financial figures, shows that until March 31, this year, the institution had already collected Sh76.1 billion, an amount which is twice Sh30.26 billion collected in the whole 2015/16 Financial Year.
This means that the loan cash repayment in the three quarters of this ending financial year is more than a total of cash collected consecutively from 2012/13 to 2014/15.
The speed of loan repayment had been increasing year after year from 2012/13, but it was at high speed after President John Magufuli took power in November, 2015 as he insisted on loan repayments so that other students could benefit from them.
Previous loan repayment was increasing at an average of Sh4 billion per year. But in 2015/16 financial year it raised to the average of Sh9 billion after loan repayments hit at Sh30.26 billion from Sh21.67 billion collected in the previous year.
The slow speed in collecting loan repayments made HESLB face several accusations of inefficiency including providing loans to ghost students. These accusations made the Minister of Education, Science and Technology to elbow out four top officials including former Executive director George Nyatenga, early last year.
The HESLB Executive Director, Mr Adul-razaq Badru, told The Citizen recently that loan repayment cash had increased at high speed due to various reasons, including an increase in institution efficiency and the political will in the President Magufuli's government.
"It is obvious that the 15 per cent deductions that we started making in February, this year, have helped a lot in collecting loan repayments from the beneficiaries.
"We have also been making regular check-ups to ensure every employed beneficiary is deducted so that the cash repaid could help others wishing to acquire higher learning," he said.
Mr Badru said currently public servants who took loans were deducted straight away by Public Service but those in the private sector and employees were also deducted accordingly as their system of loan repayment had been simplified through banks so as the process should not discourage them.
Besides improving collections, HESLB has been forced to clean data of its beneficiaries after lots of complaints that some might be overburdened with debts that they did not take and others repaying little amounts.
"Previously, data were not clean. Whoever owes us will be informed on the right amount and that if one paid more by mistake, they will be refunded.
"All this has been done in tandem with removing ousourced debt collectors, who were not any better than our own debt collectors," said Mr Badru.
Despite the management changes, Badru said the cooperation they were getting from government leaders was encouraging them to make collections.
With the current trend, he is hopeful that they would soon start providing loans independently instead of awaiting funds from the government which a wide range of priorities besides availing cash for students' loans.
The 15 per cent deduction, which is opposed by some stakeholders in the country, has enabled HESLB to collect Sh18.9 billion within the month of March, an amount that is bigger than that of the year 2013/14, which was Sh18.1 billion.
The Trade Union Congress of Tanzania (Tucta) is among the first institutions that opposed the government decision to deduct such a bigger per cent from the loan beneficiaries saying the move was harming employees.
"This does not mean that we are opposing to repay our loans by 15 pc deduction, No…we want cash loan repayments to help others as we benefited but what matters here is such a bigger per cent of deductions while the salary remains the same," said Adinani Livamba, another loan beneficiary from HESLB.
Mr Livamba, who teaches in Tanga Region, says the move affects staff with a gross pay of Sh716, 000 like teachers remain with very little money while costs of living are high.
"The government can continue to deduct low income earners an eight per cent and when they are promoted, then they can be deducted by 15 per cent.
The government should be attentive and merciful as it seems to be making some workers suffer like teachers, a profession that has neither allowances nor privileges.
However, already the matter has landed at the High Court in Dar es Salaam.
Mr Shukuru Mlwafu, in cooperation with the Legal and Human Rights Centre (LHRC) has lodged a case asking for the translation of section 20 (1B) of the law of HESLB on claim that it was against the Constitution and regulations.
One of the 20 lawyers representing Mr Mlwafu in the case, Dickson Matata told reporters that they were not opposing the 15 pc deduction, but they wants the interpretation of the law because when some took the loans they were subjected to eight per cent deduction arrangements.
The decision of lodging the case came after President Magufuli insisted on the 15pc deduction during the May Day celebrations, urging that all the beneficiaries must repay the loans as so far it was only Sh181.4 billion that was paid from Sh424 billion required to be collected by HESLB.
However, not all the beneficiaries are against the rate deduction.
Mr Henry Rodrick, who is a loan beneficiary, said; "Those who have taken loans should repay them even by 45 per cent from their salaries so that we could help our children pursue studies as they were previously deducted very little".
However, experts in higher learning financing said the efficiency in loan repayments as it was now done was the only that would make HESLB to serve more people than it was previously.
University of Dar es Salaam (UDSM) lecturer, Dr Johnson Ishengoma said HESLB is currently dependent to government by almost 90 per cent but he is optimistic that the current efforts of HESLB in diversifying sources of funds, including improving loan repayments will end the dependence.
"There are still some problems within the Loans Board that have, however, started being worked upon. The Board will not work efficiently if it will keep depending on the government," said Dr Ishengomba who has carried out various studies on the higher learning financing in the country.
The government has said the current loan repayments have started benefiting other students, who, in a normal budget, would have missed them.
"Since we introduced the 15 pc deduction from the previous 8pc we have begun providing loans to many students even to those who did not succeed last year," said the Deputy Minister for Education, Science, Technology and Vocational Training, Ms Stella Manyanya.
However, The Citizen understands that through the HESLB data, the number of those who got loans in this financial has gone down almost twice from of 54,072 students in the year 2015/16 to 28, 354 on March 31, this year.
Ms Manyanya said that some loan beneficiaries had the mentality that the loans were a gift to them as they were now feeling pain to repay them without thinking that they were obstructing others from get loans. "They need to end that mind-set and repay the loans," she said.
She said some were deducted Sh10,000 every month after a network error but they were not reporting despite having a salary of Sh2 million.
"I met with patriotic person who used to be deducted Sh10,000 monthly. which he considered too puny; he reported to the board and he has since repaid the whole loan. So, if the response of this kind happens, it is possible for all students to get loans," said Ms Manyanya.