LHRC reveals rights abuses in illegal fishing operation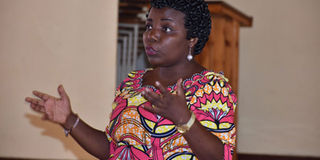 What you need to know:
The Legal and Human Rights Centre (LHRC) has revealed human rights violations in the ongoing 'Operation Sangara' which was launched to end illegal fishing in Lake Victoria.

LHRC wants the government to take action against the rights violators.

Dar es Salaam. The Legal and Human Rights Centre (LHRC) said on Friday November 23 that a recent survey carried out in Ukerewe district in Mwanza region where "Operation Sangara" is ongoing, has uncovered human rights violations.
The operation was being implemented by a task force that targets ending illegal fishing in Lake Victoria.
LHRC issued the report of the survey findings, titled 'Operation Sangara' which revealed that excessive force was used against people without considering their human rights.
LHRC acting executive director Ms Anna Henga said the task force carrying out the operation was receiving orders directly from the Ministry of Livestock and Fisheries and did not consult local governments.
"We, as the human rights centre, support the government in implementing its mandate to combat illegal fishing but we have found out that the force used by the task force, was too excessive and was against the rights of the people," she said.
She added that they witnessed incidents of violence against children, women and other residents of Ukerewe.
"We found that there was the use of excessive force, cruel acts against civilians, damage to property, corruption among other incidents," she said.
LHRC called for government interventions in order to protect the people whenever there are such task force groups leading an operation.
"We urge the government to monitor how these task force groups work in operations like these. It should ensure that people of a particular place including the local government authorities are involved," she said.
"We want the government also to take action against those who will be found to have violated the human rights in this operation. This also should go hand in hand with the necessary education on the ways to conduct legal fishing to residents before punishing even those who are unaware," added Ms Henga.