Lowassa says has no plan to quit Chadema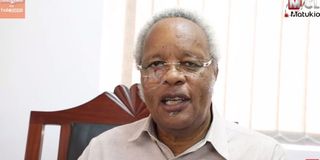 What you need to know:
The joint opposition candidate in the 2015 presidential election says he cannot let down the more than six million people who voted for him in the polls, and will continue to stand by them.

Dar es Salaam. Former Prime Minister Edward Lowassa, who is also a member of Chadema's central committee, has ruled out any possibility of quitting the main opposition party.
Mr Lowassa, who quit the ruling CCM a few days after he was axed from the presidential nomination race in 2015, revealed this after some top Chadema leaders questioned his allegiance.
"I'm still a Chadema member and I don't have any reason to quit the party. We fought together during the 2015 General Election, and we will continue to fight together," said Mr Lowassa during an exclusive interview with The Citizen's sister's newspaper, Mwananchi, in his Dar es Salaam office.
He added: "I owe a lot to the more than six million people who voted for me in the 2015 elections, and I will continue to fight for their rights because they believed in me."
Earlier this week, Chadema deputy secretary general (Zanzibar) Salum Mwalimu asked Mr Lowassa to assure the party of his stand after being praised by the ruling party several times for not getting involved in what they called "dirty politics".
When asked about Mr Mwalimu's remarks, Mr Lowassa said, "I want Tanzanians, especially Chadema supporters, that I am still a Chadema member and I don't plan to leave the party. They should ignore those who are insinuating my next political step."
Speaking at the ceremony to inaugurate the $41 million (Sh90 billion) state-of-the-art library at the University of Dar es Salaam last Tuesday, President John Magufuli urged opposition leaders to emulate Mr Lowassa, a former prime minister and 2015 presidential candidate on the Chadema ticket, for maintaining a composed disposition despite losing to him (Dr Magufuli) in the closely contested polls.
"I commend you (Lowassa). This is the kind of Tanzania we want to build. Political parties should not be vehicles for dividing us, but rather catalysts for development," the President was quoted as saying. Mr Lowassa was in attendance
During the 2015 General Election, Mr Lowassa, who vied for the top seat through Chadema ticket, was defeated by Dr Magufuli.
He scooped 6,072,848 votes against 8,882,935 of the incumbent President.