Maalim Seif joins ACT Wazalendo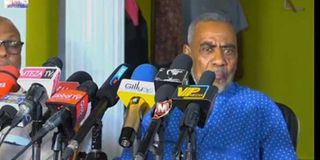 Dar es Salaam. Former Civic United Front (CUF) Secretary General Seif Sharif Hamad has announced that he has joined ACT Wazalendo today, Monday, March 18, 2019.
Mr Hamad's decision comes hours after the High Court in Dar es Salaam ruled that the Registrar of Political Parties Judge Francis Mutungi was right to recognise Prof Lipumba as the legitimate chairman of the party.
Mr Hamad said in his press conference in Dar es es Salaam that he has no intention to "continue squabbling over the court's decision."
"Suffice it to say that our intention now is not to continue with court disputes. It's enough. Political struggles have to continue,"Mr Hamad said.
It's against that background, Mr Hamad said, that he and his colleagues have decided to find another platform where they can wage the struggles for "democracy and the rule of law."
"The platform which we have decided to use to continue the struggle for democracy is the Alliance for Change and Transparency (ACT-Wazalendo) party," declared Mr Hamad.
Asked why he chose ACT-Wazalendo and not another opposition party, Mr Hamad said that he did so because the party's conditions were more acceptable. He didn't name the conditions, saying that that it was an internal party issue.
Reacting on the issue CUF chairman Prof Ibrahim Lipumba told The Citizen today that it was saddening that Mr Hamad took such a decision but he was not surprised.
"We had already fired him from his position as party secretary general," Prof Lipumba said.