Magombera forest now protected as nature Forest reserve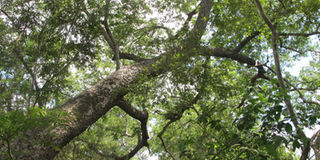 The government has announced the establishment of the Magombera Nature Forest Reserve, a 26 km2 globally unique forest ecosystem in Kilombero District, on the edge of the Selous Game Reserve.
Since the 1970s, there have been proposals to protect Magombera Forest due to its extraordinary biodiversity values.  
Following a decade of consultation, planning and cooperation between the Tanzania Forest Services Agency, the Tanzania Forest Conservation Group, local government, communities, the Udzungwa Forest Project and the Kilombero Sugar Company, the forest was formally declared as a Nature Forest Reserve on 11th January 2019.
"This is a major achievement for forest conservation that will help both wildlife and people, in a way that differs from any other reserve that I know," stated Charles Meshack, Executive Director of the Tanzania Forest Conservation Group.
The conservation value of Magombera Forest first became known in the 1970s, and received international news attention through the scientific discovery of a new chameleon species in 2009, the Magombera chameleon, Kinyongia magomberae. Unusually, the first individual of this chameleon to be discovered, was extracted from the jaws of a snake. The Magombera Nature Forest Reserve is also home to populations of the Endangered Udzungwa red colobus monkey, Verdcourt's Polyalthia tree and the large-leaved Memecylon tree. In addition, the Endangered Luke's Cynometra tree occurs mainly in riparian gallery forests now protected in the new nature reserve. Numerous other internationally threatened species of plants and animals are present in the new reserve, including the Udzungwa dwarf galago, African elephants, and hippopotamus.
Magombera Forest is also a vitally important place for local communities who depend on the adjacent land for rice and sugar farming. The forest provides invaluable ecological services including protection from floods and soil erosion.
The protection of the forest has been made possible following major donations by the World Land Trust, Rainforest Trust and Aage V. Jensen Charity Foundation, kick-started by a new donation from Flamingo Land. Additional funds from the Rainforest Trust will now be used by TFCG and UFP to develop and implement a conservation and tourism plan for the new reserve.
The Magombera Nature Reserve, will initially be managed by UFP and TFCG in collaboration with the Tanzania Forest Services Agency and the four villages adjacent to the reserve. Due to decades of human presence without harm to the monkeys (they are not hunted due to local taboos), most tourists visiting Magombera Nature Reserve will have a unique opportunity for close encounters with colobus monkeys, after just a short walk through flat, shaded, beautiful forest.
Anyone wishing to help the wildlife and people of Magombera can do so by visiting the new Nature Reserve.