New capital takes shape as Magufuli unveils govt offices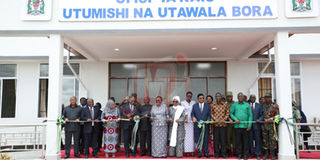 Summary
The completion of the houses are part of final touches in the complete shift of the capital city from Dar es Salaam
Dodoma. President John Magufuli today, April 13, 2019 unveiled 10 building that would be house offices for ministries and departments at the new government city in Dodoma.
President Magufuli also unveiled 41 houses for civil servants working at the Chamwino State House.
The completion of the houses are part of final touches in the complete shift of the capital city from Dar es Salaam.
The government city is located at the Mtumba area, some 30 kilometres from Dodoma.
The city would take ten years to complete and would cost about Sh10 trillion, the government owned daily HabariLeo quoted Dodoma municipal executive Godwin Kunambi as saying in April 2018.
The city would occupy an area of 617 hectares and would also accommodate foreign missions and offices for private businesses.
President Magufuli said the shift would be culminated by his move to Dodoma which is imminent.
"I will move soon. My mother is critically sick and that has prevent me from shifting at the moment. But I want to assure you that the move to Dodoma is now complete," President Magufuli said.
Shifting the capital city from Dar es Salaam to Dodoma was a brainchild of the first President Julius Nyerere. The ruling party, Tanu, resolved in 1973 that Dodoma would be the new capital city. A state house and parliament were built but the shift eventually stalled.
President Magufuli has ordered all ministers to shift to newly built offices with effect from Monday regardless of whether their buildings have been completed or not. So far 8,883 public servants have shifted to Dodoma at the cost of Sh143 billion. About Sh25.27 was spent for construction of the offices and staff houses.
Cabinet ministers, heads of government institutions, the Prime Minister Kassim Majaliwa and Vice President Samia Suluhu Hassan have already shifted to Dodoma