Some 14 State organisations declared technically insolvent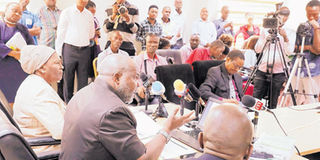 Dar es Salaam. Some 14 state corporations are technically insolvent, requiring heavy injection of funds to keep them afloat, the Controller and Auditor General (CAG), Prof Mussa Assad has said.
In his 2017/18 audit report, Prof Assad said he found 14 government-owned entities in critical financial condition. The CAG said the entities made losses and had excess liabilities over assets which threatened their future existence.
The entities are the Air Tanzania Company Limited (Atcl), Tanzania Petroleum Development Corporation (TPDC), Tanzania Geothermal Development Company Limited, Tanzania National Business Council (TNBC) and Dar es Salaam Water and Sewerage Authority (Dawasa).
Others are the Lindi Urban Water Supply and Sanitation Authority, Tanzania Tourist Board, Dar es Salaam Water and Sewerage Corporation (Dawasco) and the National Sports Council.
In the list also are the Mtwara Urban Water Supply and Sanitation Authority, Mwanza Urban Water Supply and Sanitary Authority, Electrical Transmission and Distribution Construction and Maintenance Company Limited, TTCL Pesa Limited and Tanzania Dairy Board.
Of the 14 entities, the CAG pointed out that nine had negative equity and have been operating at loss for over two years.
Most entities rely on external debts to run their operations which are considered more susceptible to financial distress. This situation has made many of these entities to have high gearing ratio.
TPDC, for example, made a loss of Sh64.5 billion for the year 2018 with equity of Sh375 billion. Dawasco, with equity of Sh32.5 billion, made a loss of Sh8.5 billion.
TTCL Pesa Limited, whose equity stands at Sh139.6 million, made a loss of Sh360 million while Dawasa with equity of Sh32.5 billion made a loss of Sh8.5 billion. "Following the financial difficulties facing the public entities, it is unlikely that they will survive without government support," said the CAG in his report.
"There is a risk that these entities might not be able to discharge their functions, thus impacting the service delivery.
The CAG recommended that the government review the mode of operations of the entities and inject resources to revamp their operations.