40pc of fertilisers fake: study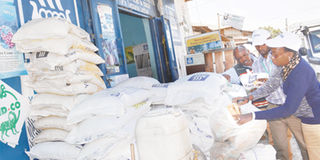 What you need to know:
This is happening at a time when policymakers and smallholder farmers are calling for increased distribution of fertilisers to improve agricultural production.
Dar es Salaam. At least 40 per cent of fertilisers on sale in Tanzania are fake, researchers say.
This is happening at a time when policymakers and smallholder farmers are calling for increased distribution of fertilisers to improve agricultural production.
According to a 2015 report of the Ministry of Agriculture, Food Security and Cooperatives, Tanzania's total demand for fertilisers is 485,000 tonnes. This implies that close to 200,000 tonnes of fertilisers are counterfeit.
The National Network for Farmers (Mviwata), with the support of the Alliance for a Green Revolution in Africa, has found that the distribution of substandard and fake fertilisers to millions of Tanzanian farmers is chronic.
Mviwata Executive Director Stephen Ruvuga maintains that the organisation has evidence that millions of smallholders have been receiving counterfeit fertilisers.
"Fake fertilisers have been reducing productivity and increasing production costs," he warns.
Responding to a question on fake fertilisers last week during the launch of a project on inclusive growth for smallholder farmers in the Southern Highlands, the Permanent Secretary in the Ministry of Agriculture, Livestock Development and Fisheries, Dr Florens Turuka, said a watchdog had been monitoring the quality of distributed fertilisers.
"The government, being aware of the possibility of such problem to happen, has formed the Tanzania Fertilisers Regulatory Authority to oversee the distribution of high quality fertilisers. The ministry is reminding the authority to monitor the distribution of fertilisers for quality assurance," says Dr Turuka. Formed in 2009 the Tanzania Fertilisers Regulatory Authority was reformed in 2012 to have teeth to bite violators of the law, but agriculture stakeholders have continued to complain about the distribution of fake fertilisers.
Researchers working under the Stars project supervised by the Ministry for Agriculture in collaboration with the Sokoine University and Maryland University based in the UK last month found that maize plants in Mlali Village and Kihonda in Morogoro were in bad conditions.
Farmers who were interviewed attributed the bad crop conditions to armyworms and failure to access quality fertilisers at the right time. Mlali villager Jonas Hemu said he had expected bad harvests of maize due to two reasons: poor November rainfall and failure to access high quality fertilisers at the right time. "The agents for distribution of fertilisers have failed to supply us fertilisers. Most of our maize plants have been stunted due to lack of fertilisers," he said. Kihonda farmer Simon Luanda said fake fertilisers were affecting crops in Morogoro Region.
"We have been failing to meet our target of increasing farm productivity because fertiliser quality is poor," he said.
Studies have found that all East African countries have been consuming fake fertilisers. A 2015 study report by the International Growth Centre in Uganda found that the average amount of nitrogen in fertiliser samples was only 31.8 per cent. "That means that the farmers could expect to buy fertilisers that are only two-thirds as potent as advertised and to make matters worse some sampled fertilisers contained less than 10 per cent of nitrogen" the report reads in part.
The study titled "Low quality low returns, low adaptation" shows that out of the fertiliser samples tested not one reached the standard 46 per cent nitrogen content that pure Urea contains.
Yet experts say the nitrogen nutrient is essential for the growth of maize.
Fake fertilisers do not only hamper farm productivity but also pollute the environment which sustains people's livelihoods, according to experts.
In Tanzania the issue of fake fertilisers was raised in 2014 in Parliament, but the ministry said the regulator had been assigned to prepare guidelines for destroying fake fertilisers.
In 2012/13 financial year, the Parliamentary Public Accounts Committee ordered the responsible minister to recover Sh3 billion ghost expenditure on fertilisers due to rampant farmers' complaints.
In 2013, the regulator issued a statement that fertilisers with wrong labels of calcium nitrate and calcium ammonium nitrate had been seized.