Education doesn't pay, here's why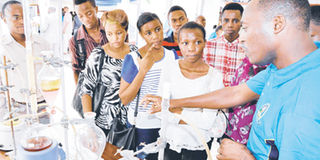 Summary
He says he can't take it anymore. Reason? He thinks he made a wrong investment in education and the least he can do is to use his advanced education to make one right decision in his life.
In his words, "the economics of higher education does not pay anymore."
My great friend Edward, a professor at a local public university, quit his job in a huff last week to start a small enterprise.
He says he can't take it anymore. Reason? He thinks he made a wrong investment in education and the least he can do is to use his advanced education to make one right decision in his life.
In his words, "the economics of higher education does not pay anymore."
Edward started his schooling in rural Kenya where he excelled and joined the prestigious Mang'u High School.
He later joined Kenyatta University in the early 1980s, where he read Math and Physics as an undergraduate. He taught briefly at a local school before travelling abroad for his graduate studies.
I met Edward for the first time in graduate school in America. Later, he moved to England to pursue his PhD. Most of his education costs were met through loans, harambees, scholarships and personal effort from work-study programs at various university campuses. Now he thinks it was not worth the effort.
He arrived at this conclusion through what he calls his own reflection on the purpose of life, during which he thought deeply on the issue of whether life is what you make it or what you are perceived to be by other people. He has found himself asking questions such as, "Is life defined by moments?"
This thought was triggered by the consideration of what Martin Luther King Jr meant when he remarked, 'The ultimate measure of a man is not where he stands in moments of comfort and convenience, but where he stands at times of challenge and controversy.'
Edward found himself in the midst of challenges that range from his true status in society to failing to meet his obligations.
Now he says that any investment you make in education beyond a baccalaureate or bachelor's degree is virtually a waste of resources, whose return is uncertain.
Edward argues that if the country needs higher education graduates to do research, improve productivity and help the economy grow, then it must pay for them as it pays for any other investment.
We are underinvesting in the future of the nation, forcing people into collective sacrifice whose outcomes are pushing more people into perpetual poverty.
"It defeats logic when the average income of my part-time graduate students is twice what I earn to teach them," he says.
He cites two incidents that fully convinced him that he was on the wrong track in the race of his life, and that he would be headed for disaster unless he changed tack.
First, he accidentally discovered that society long ago lost respect for learned people except for lawyers, some of whom Attorney General Prof Githu Muigai recently revealed are charging fees of up to one billion shillings for mundane legal matters.
He learnt the hard way this year when he decided to celebrate Easter in his birthplace. As usual, he drove his Toyota Fielder saloon car to his rural church, careful not to scrape the underbelly of the car on the stones on the road.
He noted, upon his arrival, that the congregation had changed significantly since the days he used to volunteer as an altar boy.
Except for two older ladies, no one paid attention to his presence. A few minutes later, a young man, Julius, who coincidentally was his student when he taught high school, walked in.
The church service was interrupted to announce his presence and a dozen or so congregants scampered to find a comfortable seat for him.
In the meantime, the priest praised him as a forward-looking leader, reminding the congregation that he would become their Member of Parliament come next year's election.
Edward had taught Julius mathematics in high school and he wasn't exactly a genius. In fact, he failed his high school exams, but he was ambitious and streetwise.
He made his money first as a mitumba (used clothing) dealer, before buying a matatu and joining the public transport business. Later on, he invested in hardware. More recently, he has became a real estate developer.
There are unsubstantiated reports that he is part of a cartel that imports luxury cars disguised as household items and imports illegal timber from the DRC. In a nutshell, he has made a lot of money.
Evidence of it includes a big mansion in his rural home, several mistresses and the ubiquitous Prado SUV, the car that, at least locally, says you have come into things.
During the 2013 general election, he ran for the governor's seat in his county but lost. He heard that the law was being changed to bar non-degree holders from seeking any kind of political office so he enrolled for his undergraduate studies and graduated last year.
It is rumoured that Julius attended class but rarely, that most of his assignments had several handwriting styles, suggesting a collegiate effort, and that some of his grades were mysteriously padded up.
Julius, nevertheless, is a generous man and many animals were slaughtered to feed the many guests who attended his graduation party.
He has also been instrumental in many development projects within his county. In fact, he is the local problem solver. Whenever he attends funerals, he donates huge sufurias or plastic seats.
To Edward's surprise, when Julius was given an opportunity to greet the people, he fondly acknowledged him as the Einstein of the county. He almost thought Julius was being sarcastic, but then realised that he was being acknowledged in anticipation that, come next year, he could cast his vote where it mattered.
Another incident that really touched Edward recently was seeing his old undergraduate professor riding a boda boda on his way to hospital.
He would not have recognised him had the professor not called his name and ordered the driver to stop. He was happy to see Edward. He wasn't feeling well, he said, adding that that it was a fact of old age.
Luckily, he observed, President Kibaki had allowed these young men to own motorbikes and so transport in the rural areas had improved. Edward could see beads of sweat on the old man's forehead, and he spoke with a low voice which appeared to come from deep inside his being.
As Edward narrated the sorry story of Professor Matthew, I started to understand his decision to quit.
Prof Matthew was revered man in his field, both locally and internationally. He contributed immensely to this country but had now been reduced to nothing. He was sickly, even malnourished. This is a man who retired honourably yet his pension cannot support him, let alone his ailing wife.
When Professor Mathew died a few weeks later, it emerged that he had missed his diabetes medication. He couldn't afford it any more. Prof's funeral was delayed for two weeks to allow the community and friends to hurriedly build a small house for him.
At his funeral, politicians jostled for a chance to eulogise an important son of our soil. On reaching the podium, each would brag about how they would take leadership in the coming year.
His lifetime friend who read the eulogy could hardly be heard. "My brother, who is lying there, succumbed to diabetes," he said. Edward sat pensively, pondering the goings-on. "I wish the eulogist had said, 'My brother who is lying there died because he could not afford diabetes medication,' " he kept thinking.
Subsidizing higher education
In defence of his resignation, Edward was right. Policymakers have failed to understand the role of education and how we can make it meaningful to those who have dedicated their lives to develop the much-needed capacity to drive us out of poverty.
We have chosen quantity over quality and we may be completely losing the purpose for education. Many a politician with questionable background sees university education as a tool for political power.
Some commercially-driven universities are bending the rules to improve their balance sheet, at the expense of those who want certificates by hook or by crook.
If politicians seek university degrees merely to ascend to leadership and not for the knowledge, only God knows the kind of laws the country will have once they are elected.
A policy change would improve the quality of education as well as the lives of people like Professor Mathew, but just changing the system is not enough.
Recent studies show that the cost of subsidising higher education is far higher than it would be if we let market dynamics determine fees while providing scholarships to the needy, just like successful countries do.
There are also alternative ways to funding university education that have not been exploited, such as endowment funds and university-industry linkages than can commercialise intellectual property.
This would translate to better pay for lecturers. It would improve retention of critical human resources that are capable of creating and disseminating knowledge, and our economy would grow in leaps and bounds.
No nation has ever succeeded without a quality human resource.
Our blanket university education subsidy gives the rich an unfair advantage. Perhaps that is why the gap between the rich and poor continue to widen.
My contention is that both primary and secondary education should be free, and schools should levy what it takes to provide quality education until that happens,
It is an utter political gimmick when the government insists that fees should not rise in tandem with inflationary pressures and the pressure that is not contained is turning into fires across the country.
What the government does not realise is the fact that the students we have in high school have no similarities with those of yesteryear.
It was unthinkable to set our school on fire for lack of electricity to watch a football match. But the so-called millennials, or what I refer to as the mobile generation, have no shame in doing exactly that.
They have been exposed to more destructive content than many of the older generation experienced till adulthood.
Chances are they don't even know where money comes from but they want uninterrupted services in their schools, with or without the resources.
The writer is an associate professor at University of Nairobi's School of Business. Twitter:@bantigito