When sign language is used to translate the Bible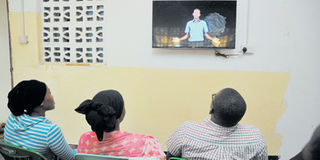 What you need to know:
A presenter; tall, slim and brown gentleman in his blue short sleeves and shirt and a black trousers is carefully and clearly narrating how God created the universe, referring to the Bible's first book, Genesis, in sign language.
A group of almost seven people have gathered before a black 32-inch TV attached on the wall attentively watching what is being broadcast.
A presenter; tall, slim and brown gentleman in his blue short sleeves and shirt and a black trousers is carefully and clearly narrating how God created the universe, referring to the Bible's first book, Genesis, in sign language.
The narrator's sign language interpretations are supported with images and illustrations together with the facial expression and body movement to make them easy to follow to his deaf audience members.
"God creates the world in six days and consecrates the seventh as a day of rest…,says the man in the video," a sign language interpreter near me explains.
These biblical teachings are conducted at Immanuel Church for the Deaf, Tanzania, and this is one among hundred other videos produced by Biblia ya Lugha ya Alama Tanzania (BILAT), a small group of deaf people who translate the Bible into sign language.
According to Deaf Bible Society, an international organisation providing free access to Bible translations by video in more than 20 sign languages, only 2 percent of Deaf people around the globe have been introduced to the gospel.
The organisation estimates that at least 95 per cent of sign languages have no Bible translation.
"But with video and the Internet, we can create and provide sign language Bible resources like never before," it says,
BILAT started in 2004 and was officially launched in 2011 to provide the country's deaf with Bible teachings through videos.
The team is made up of 12 people with three among them being volunteers, four are missionaries and up to this year more than 15 DVDs covering more than 144 biblical topics have been produced and distributed among the deaf across the country.
Mr Sensor Joseph is the Chairman of BILAT and the Senior Researcher in sign language Bible.
He says that the main reason for the establishment of BILAT is that many deaf do not have access to the printed Bible.
"Following the study we carried out, it was found that most deaf people are not acquainted to the spiritual life and this was caused by the fact that they were using the Bible that is not in their medium of communication," says Mr Joseph in an interview with Sound Living at his office at Buguruni Malapa, Dar es Salaam.
The sign language interpretation of the various Biblical information and scriptures is recorded in DVD and memory cards.
"The deaf community has been forgotten by both the society and the government," says Mr Joseph adding that even religious leaders who were supposed to be at the frontline to support spiritual matters of the deaf have been inactive.
Different from their neighbors in Kenya, Uganda and other East African countries, Joseph says, the deaf in Tanzania have been left behind in almost everything, including spiritual life, something that forces them to run while other are walking.
The way the Bible is translated is in terms of topics and not sequence. Defending the decision, Mr Joseph says, "If we would start with Genesis book up to Revelation's, it would take a very long time for the translation to be complete."
He says that such work is very demanding and cannot be done overnight.
Instead, from almost 450 collections of scriptures in the Bible, only those seen as useful to make a deaf know about God's teachings are chosen.
"For example you select three scriptures on how God has created the universe, three on how sin came to earth, three scriptures on salvation and so on," says Mr Joseph.
BILAT works in association with some international organizations to make their initiative bear fruits.
These include SIL International, Wycliffe USA, Seed Company, Deaf Bible Society, DOOR International and others.
"These organizations are international based and work in partnership in supporting our services," says Mr Joseph.
It all starts with the reading of a particular Biblical verse or scripture in group.
A person who seems to have well mastered that particular Biblical verse or scripture memorizes it and rehearsals several times in preparation for recording.
Alfred Maduga, 43, works as a sign language translator at BILAT. He says it can take him up to three to four days to memorize a particular Biblical verse or scripture depending on the nature of the information itself.
"For example the story of Moses, is very complex, it can take a lot of time compared to other stories," says the father of three, who has so far memorized more than 160 stories.
Having satisfied that he/she has well mastered the information, the person will stand before the camera for video recording where he/she will be retelling the same information but in sign language.
Maduga works with Yohana Mwakyusa, 31, another translator at BILAT who says that it can take between an hour to two to record one video.
"Deaf understand in a slow pace, so even the process of translating a Biblical verse for them is supposed to be done in an accommodating pace so that they can understand," says Mwakyusa, who has been a sign language interpreter for eight years now.
After recording, the whole team seats and watches the video to see if there is any improvement and changes that need to be made.
Having satisfied themselves that the video is okay, it is taken to a translator who re-translates the video's sign language into English. This person is called Back Up translator.
Tusa Mwakatobe, 40, works as a Backup Translator at BILAT. "The recorded video is voiceless with only signs, hence a person who hears cannot understand, so our language experts require us to change it from sign language to English language so that they too can understand," says Ms Mwakatobe.
She says that the sign language they use reads in Kiswahili, in order to make their experts understand, they have to change it to English.
This is purposefully done because the people to whom the video will be sent for examinations and approval-ISIL International – do not understand the sign language so it has to be translated into a language that they can understand.
After transforming the video's sign language into English, it is taken to a Bible translation expert who is not deaf; this is SIL International, a faith-based non-governmental organization building worldwide.
Having been approved by SIL International, the video is sent to the deaf community as part of piloting to see if the sign language used correlates with theirs and if there are any errors in their perspective.
Once anything worth working on is traced, the video is corrected accordingly to match the audience's uses.
After that the video is edited by accompanying it with pictures and illustrations.
"This is done to make it easy for the deaf to absorb the teachings," says Issaka Igogo, 30, who works as a video editor.
The video is then taken to a translation expert for approval and once approved it is duplicated into copies and distributed to the deaf.
The process can take between three to four months until its completion.
The BILAT services have been useful to hundreds of thousands of deaf as far as their spiritual life is concerned.
"The DVDs have indeed been of assistance to me since I now understand the Bible," says a 39 years old Ms Sarah Apollo, a resident of Kunduchi, Dar es Salaam.
Ms Apollo says she started using BILAT DVDs since 2011 and she feels blessed since she understands the teachings.
"I would like to see the service spread further so that other people too can benefit from it," says the mother of three.
Rosemary Peter, 26, says that BILAT had opened doors for her to be close to her Creator. She says, "in the beginning it was very difficult to read the Bible and understand it," says the Bunju resident, adding that even when the Bible was read by someone else it was still hard for her to understand.
Rahel Issaya, 25, says she was introduced to BILAT DVDs by her husband and after a long time of ignoring, she one day came to watch them and she happened to love them so much. "the translations enable me to learn so many things in a short period of time," says the mother of one, adding that BILAT has been able to fill a void in her heart.
Humphrey Nyigo, 33, a carpenter based in Kimara Dar es Salaam says he was concerned with how he would know about God and separate himself from sinning, but he did not know where to start since he was not able to read the Bible. He says, "I have learned a lot of things through the DVDs and they have made me a true Christian by enabling me to know what is right and wrong," says Nyigo.
Apart from the believers, BILAT DVDs and memory cards have also been of assistance to a number of missionaries who preach the gospel to deaf.
Mr Oscar Mwakampya is a missionary based in Morogoro, who says that the DVDs have helped him to get his teachings to deaf in a simplified manner. He says, "when I preach, I not only have to use the DVD but also distribute some to them since they help the deaf to know God through what has been covered in the DVD."
He says BILAT offers him DVDs, memory cards and sometimes even projectors to use to spread the gospel among deaf community.
The key challenges facing the BILAT project is inability to produce enough DVDs and memory cards and distributing them in different parts of the country.
"The church has less resources to support the initiative, we would like to see other people and institutions like the government, non-governmental organizations, religious organizations and independent individuals support our works so that we can reach as many deaf people as possible," says Mr Joseph
Because most of the deaf do not have access to TV sets in their homes, Mr Joseph says that they also use memory cards as alternative.
Currently, the videos produced by BILAT are not for sale but freely distributed.