Should pregnant women avoid cats? Get answers from TZ scientists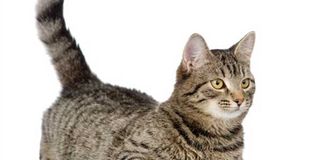 What you need to know:
Scientists at the Catholic University of Health and Allied Sciences (Cuhas) have carried out a study and found that pregnant women in Mwanza are at risk of an infection by parasites harbored by cats.

Mwanza. Scientists at the Catholic University of Health and Allied Sciences (Cuhas) have found that a significant number of pregnant women in Mwanza Region are at risk of suffering from a condition caused by a parasite, Toxoplasma gondii, which is commonly harboured by cats.
A person who suffers from the condition may experience a few weeks or months of flue and muscle pains. Doctors say it can be acquired through eating undercooked contaminated meat, exposure to infected cat faeces or mother-to-child transmission during pregnancy. The disease is called toxoplasmosis.
Without screening the pregnant women to identify the parasite that causes the disease, the Cuhas scientists say it may go further to affect newborn children, leading to complications such as abnormal enlargement of heads (hydrocephalus) in infants.
"So, what should women do with the cats (animals that harbour the parasite)?" queried Dr Sophia Ottaru as she presented a 7-month study carried out from May last year to February this year out at Bugando Medical Centre.
The study aimed at assessing the complications of the disease in children. "I can't say they should kill or eliminate the cats to be safe, cats are entitled to animal rights too, but what we advocate is public health education,'' said Dr Ottaru in an interview with The Citizen.
That was shortly after she presented the study during Cuhas' 10th scientific conference, held in Mwanza, under the theme: "One Health Research at Bugando, Is our approach on the right target?"
"There is no routine screening for T.gondii during pregnancy, despite [the parasite] being common in Tanzania,'' said the study.
Dr Ottaru, a specialist in children's health, says, "If a pregnant woman owns a cat at home, she should not stay close to it because, even cat's fur could harbour the eggs of the parasite. She should also maintain hygiene, such as wash hands thoroughly just in case she comes into contact with cats."
But also, she says, "Keeping cats is an urban practice, yet the parasite, T.gondii, can affect people from all walks of life, can be acquired through eating half-cooked meat and in soil, so it's important to educate the entire public on how to avoid the risk factors."
The study, involving 125 infants with abnormal enlargement of head (hydrocephalus) at Bugando, involved collecting blood samples and analysing them through relevant softwares. The results of the study show that about 23 per cent of the infants with hydrocephalus were found to have antibodies in their blood, suggesting that they had acquired the infection.
A 2013 study, titled: Sero-prevalence and factors associated with Toxoplasma gondii infection among pregnant women attending antenatal care in Mwanza Region, called for screening of pregnant women to reduce the risk of passing on the condition to unborn babies.
According to Cuhas' director of Research, Prof Domenica Morona, Tanzania's climate is ideal for many parasites and other micro-organisms which affect health.
"The reality is that pregnant women should be screened and treated for many things. It's difficult to say which one should be a priority but awareness on T.gondii can play a significant role in improving the health of pregnant women,'' she told The Citizen.
"In Europe [where I come from], T.gondii transmission is much known, because many people keep cats as pets. But here in Tanzania, there is less awareness.