Tanzanian wins top innovation awards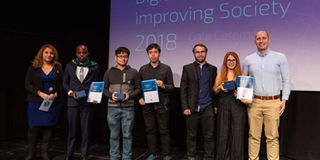 Summary
Edward is the founder of a startup tech company, Mtabe, which uses artificial intelligence and SMS technology to deliver learning content to students who cannot afford textbooks and without internet access

Dar es Salaam. A young Tanzanian innovator has landed two inter-continental innovation competition awards, upstaging fellow African, Asian and European contestants.
Given Edward, founder of a startup tech company, Mtabe, which uses artificial intelligence and SMS technology to deliver learning content to students who cannot afford textbooks and without internet access, took home both the Best Social Innovation from Africa and Youth Overall Best Innovation awards.
The contest took place under the auspices of the European Youth Award (EYA), a European-wide contest aimed at motivating young people, social entrepreneurs, and start-ups to produce digital projects that will have an impact on society.
AYE seeks to demonstrate the potential of young innovators to create innovative solutions with internet and mobile technology addressing the goals defined by the Council of Europe and Europe 2020 as well as the UN Sustainable Development Goals (SDGs).
Taking place from November 28 to December 1 in Graz, Austria, this year's AYE award festival involved hundreds of young people from across the world.
Speaking with The Citizen after jetting into the country, Mr Edward said he was "very excited and happy" to emerge the winner of the two awards.
"It was an exciting moment when I was announced the overall winner," he said, adding: "I actually won on merit against Asia's champions and Europe's champions. Apart from that, we had won against Kenya's innovators and Ghanaians."
Mr Edward believes that the awards will help spur him and that they were not only important to him, but also to the country and Africa at large.
"It has left a good impression that an African youth, from Tanzania, has won in an innovation competition against Europe and Asia," he said.
Asked what is next after the victory, he said that he is looking forward to executing his company's solution further in the country and beyond.
Mr Edward is also the founder of MyElimu, an online discussion forum where pupils can continue discussing school work even when in commuter busses.
Mr Edward's vision is to make education accessible to as many young people as possible in Tanzania.
The 24-year old Edward is also a recipient of distinguished Queen's Young Leaders Award, an award by Queen Elizabeth II to exceptionally talented young people.