How travel helped Masuma conquer anxiety and despair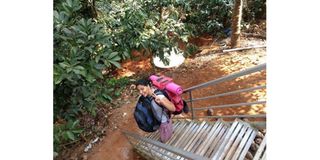 Summary
Masuma, who chronicles her travels in social media pages, says hiking the mountains and spending time in beaches give her strength and provide rare moments of relaxation
On her train trip to Mbeya, Masuma Somji was finally seeing the light at the end of the tunnel.
She boarded the train from Tazara Station in Dar es Salaam, heading to Mbeya, seemingly leaving her past behind.
She found hiking in the mountainous terrain of Mbeya to be a great way to decompress and reconnect with nature.
But it wasn't always like that; just a few years earlier, she had on numerous occasions contemplated ending her life; she felt suicide was the only way out of her toxic marriage.
"I was always having anxiety attacks; I never understood why; I thought something was wrong with my heart or my brain," Masuma said, adding, "You know, we humans have emotional bandwidth, where we can accommodate or manage certain levels of emotions, and if we go beyond that, we crash down because we can't deal with that emotion."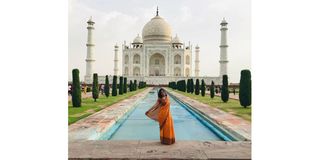 Masuma, a Tanzanian woman of Indian descent, experienced her first anxiety attack when she was going through a torturous divorce.
She grew up in Arusha, amongst close family members, but she felt isolated and alone amidst her marriage troubles.
She was advised to travel to India to a meditation centre, and that's when her travel adventure began. She would later go to Kashmir, a historically volatile region bordering India and Pakistan.
"Contrary to what the media portrays, people in Kashmir are lovely, and the best of all is that that's where I found love again. I fell in love with the man in my life now. My man is Indian just like me, but he had never travelled out of India, and together we travelled to Nepal, Vietnam, and other countries," she opens up.
Masuma realized that, though she had travelled extensively to several countries across the world, she had never truly travelled across Tanzania, her country of birth.
So, together with her partner, her travel escapade across Tanzania began.
"I have travelled to a lot of places in Tanzania; I have been to Mbeya a lot. There is so much to see in Mbeya; there are like five waterfalls in Mbeya; there is Lake Ngozi; it's a great lake, so you hike up to the mountain. There is Kituro National Park and Matema Beach," she explains.
Once Masuma's eyes opened up to the beauty her own country, Tanzania, possessed, she travelled extensively.
She went to Tanga on several occasions; she visited Magoroto before there was even electricity, tents, or restaurants.
"I went to Tanga for the hike; it was magnificent," she says. Hiking gives her strength.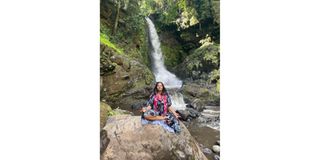 "I associate mountains with strength and the beach with relaxation. I feel like when I'm at the beach and the waves come, they take my troubles away. When I'm in the mountains, I have to force myself to do better," she says, adding that mountains tend to take the ego away from humans. "We view ourselves and our problems as minute compared to these massive heaps of land."
Masuma has many highlights during her travels across Tanzania, but her adventure to Kituro stands out. "Kituro is called the Serengeti of flowers. It was very rainy; we saw valleys and valleys of flowers and waterfalls," she recalls. She would go to visit Udzungwa and witness a gorgeous sunrise.
She also went to Gombe National Park in Kigoma and swam in Lake Tanganyika. "The reason for travel is an escape, but when I reach there, the amount of learning, experience, and appreciation for nature takes over," Masuma says. She went to Pare Mountains and Lake Hope, and she has documented all her journeys on her social media pages. Travel is associated with visiting unknown places mostly for the first time, and as a stranger in new places, how does a Tanzanian woman who is tempted to see new places in Tanzania cope?
"Travel in Tanzania is very safe, and the people are amazing," Masuma begins. "Of course, as women, we have to be careful; we have to trust our gut feelings and be alert when traveling alone. Women have excellent gut feelings; from the way a man is looking at you, a woman can tell if he is going to be a problem," elaborates Masuma. She also talks about spending some quality time alone.
"Sometimes you can have "me time", and if kids are involved, a trusted relative can watch over them as you go out to the world and recharge. It's amazing what trekking on the hills, swimming in the lake, or seeing lions hunt in the Serengeti can do to refresh one's life. Self-care is more than getting nails and hair done."
"I truly had given up on life. I had thought of suicide many times, but now I want to live my life to the fullest," Masuma beamed.
"I would tell a woman going through what I went through to believe in themselves and that there is life after crises. Life is too long to live stressing," she said with a little laughter.
On the train heading to Mbeya, Masuma is sitting next to her new man; they are having a Swahili dish for lunch. "My new partner is now here in Tanzania, and I have travelled with him to several places, and he loves it here; he doesn't want to leave.
He loves nyama choma and Ugali," she says, and adds that her man is not into chips mayai; "he wants real Swahili food for men." The train has a bar and restaurant, and at night they switched off the normal lights and turned on the "club lights". Bongo Flava music was on full blast, and people were dancing the night away; it was a full party.
In less than 24 hours, the train made its way to Mbeya. With not more than Sh40,000, the train trip will afford you a second-class ticket with a bed to sleep in.
Masuma's 40th birthday is getting close, but she feels like life has given her a new meaning; one would call it a new page, and only she can decide what to write.
"It's always interesting that even when we don't know the language, we meet someone and we get to understand each other because the universal language of the world is humanity," she concluded.